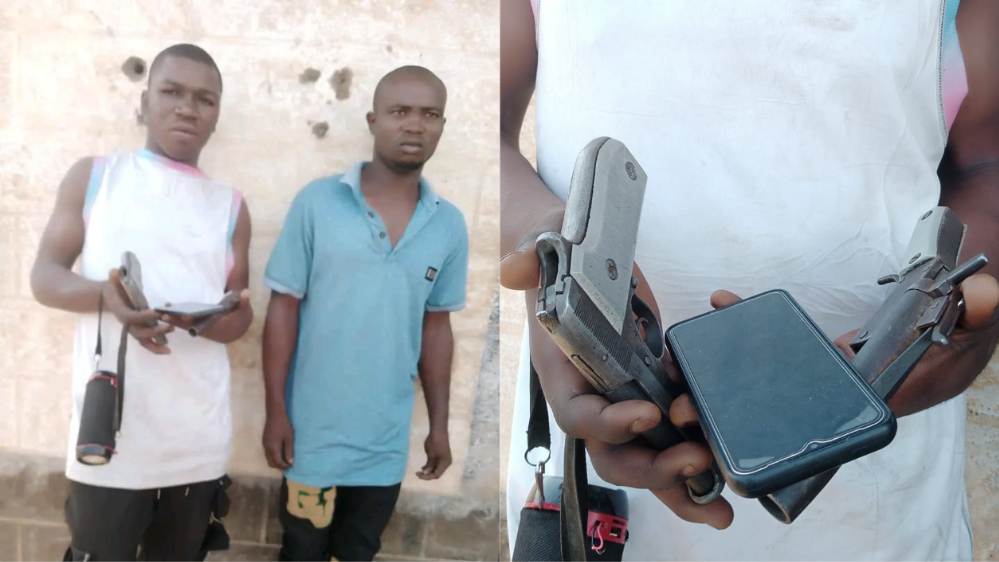 On the 15th of November 2022, The Benue State Community Volunteer Guards (BSCVG) reported arrested two suspected criminals who specialise in snatching mobile phones and money from travelers.

Items recovered: The suspects were arrested with two locally made pistols at Yaman Park, Wurukum area of Makurdi. After much interrogation the suspects disclosed their names as Ugba Terese, popularly known as (Big Sharp) of St Augustine Church Demekpe, Makurdi, and Orjime Ahamgba Kanyima of behind Navy Barracks Kanshio, Makurdi.
During the process of the interrogation both suspects admitted snatching a phone from a traveler who alighted from Kano on Monday night, as well as collecting Twelve Thousand Naira (N12,000) from another traveler last week at gun point. The suspects further narrated how they trick travellers into the their trap. "I begged him to let me make a call with his phone and he obliged. Then, my friend followed him with slaps in the face. Out of fear, he ran away leaving us with the phone," one of the suspects said. The two suspects confessed to having been into the act for years but begged for forgiveness from their victims, BSCVG, Police and the public, saying they would desist forthwith if forgiven.
See Images Below;