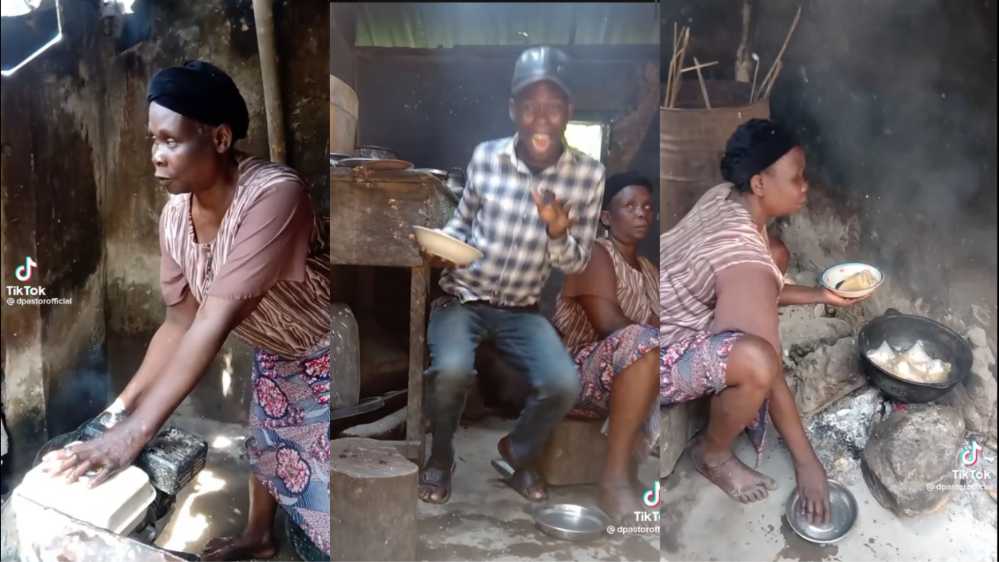 Just in: A Nigerian man shared a video on his TikTok page of how his blind mother made food and served him.

The video is currently trending on tiktok, the blind woman entered the kitchen and singlehandedly prepared moi-moi while her son filmed her in action.
As soon as she was done cooking, she called her son to taste the food and his reaction caused a frenzy online.
The young man took to his TikTok page saying;
"I want to quickly show you how my mother makes moi-moi without her sight. She switches on the blending machine herself. After which, she put all the ingredients and put it on fire. Then she calls me to take my food after it is ready."
Comments
@oluwashikemi900:she is an AngelGod Bless All our Mothers 🤲
@Dija's bead:God Bless Our Mothers
@Afosbabe:She will live to eat the fruits of her labor in Jesus name
@user8729369204826fridayosas:Mummy u we see with ur eyes again in Jesus name Amen
@Olamie ❤️❣️:I always get emotional when I come across your video 🥺I pray for continue to bless her and keep her
@Big Baby Ebi✨:God bless your mom ….and bless u more so u can make her happy for the rest of her life ❤️❤️🙏
@Sweetsoven confectioneries:I adore her inner sight. God bless you our mama 😜😜❤️
See Video Below;
https://vm.tiktok.com/ZMFmFoQoa/