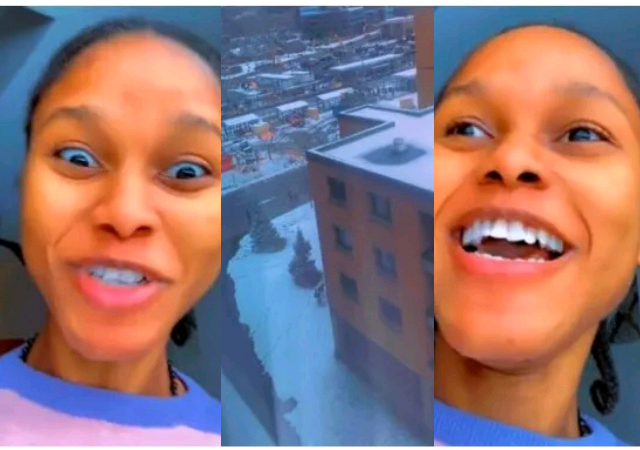 A Nigerian lady who recently relocated to Canada got excited after she witness snow fall for the first time in her life.

She shared a video of the exciting monent on her twitter account,she also described the experience to be "heaven".
A young Nigerian, Precious Kolawole, has shared a video which captures her expression after seeing snow for the first time in her life.
She took to her Twitter page to disclose that she saw snow falling in Canada and it was a historic moment for her.
Precious relocated to Canada recently, but prior to her arrival in the North American country, she has never seen the snow in person.
According to the video she posted, precious was unable to contain her excitement as she showed off a view from her room with the roof of other buildings covered in snow.
Precious posed a rhetorical question to the God about whether she was in heaven because it was an unbleievable reality.
she said in the video
"I am excited. God, is this heaven? This is heaven on earth. It's so cute".
She also captioned her post; "I cannot contain my excitement😩 I saw snow for the first time today"
I CANNOT CONTAIN MY EXCITEMENT😩 I SAW SNOW FOR THE FIRST TIME TODAY 🥹🤣❤️