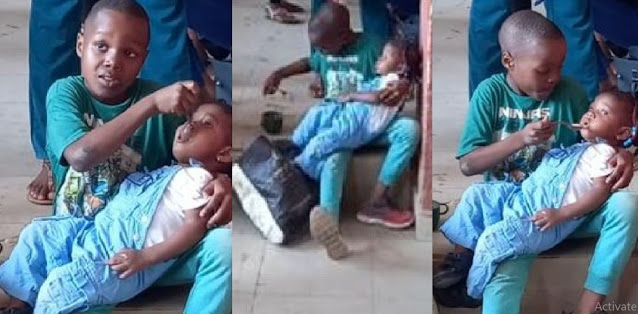 A little Nigerian boy has won the hearts of many on social media after a video of him taking care of his junior sister whilst his mother was away.
A lady known as Alisigwe Amarachi revealed via Facebook that the mother of the kids was writing exams and his little sister was crying and he had no option but to mix her food and feed her.

She shared the video on her page and it captured the boy giving the little sister porridge and according to Alisigwe Amarachi, the boy won her admiration and she urged others to train their sons to be responsible because in the future they will be of help.
Social media users have hailed the boy and alluded that he will protect his kid sister no matter what. Others also lauded their mother for training him well.
Watch the video below;
See a few comments below;
@babaogrin wrote; `This is how you train your kids. Be it a boy or a girl so when they grow they won't be fighting this nonsense gender war going on! God bless2
@millyposh21 wrote; `The mom did a good job , and the boy was willing to learn too .. Oya try touch this he sister and see war`
@dbeegram wrote; `The way this boy will protect his little sister as they are growing up. I pray God bless them and guide them, and I pray they are always close to each other and always have each others back. The way the boy is licking the spoon reeks of professionalism, lol
@godwillfavour wrote; 'He does it exactly the way he sees his mum doing it.. That's how my mum feeds my youngest brother
@officialbobbyfrederick wrote; `This boy will protect this his sister with his life fa…kudos to the mom for this upbringing..he would really value women in the future