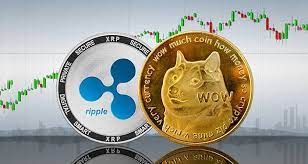 XRP and dogecoin (DOGE) added upwards of 6% each in the past 24 hours as separate catalysts powered purchases of the two tokens amid a weakening crypto market.

The total capitalization of the crypto market, according to CoinMarketCap, decreased by 2.8%, to $1.87 trillion. Bitcoin's dominance ratio – its share of the overall crypto market capitalization – slipped by 0.3 percentage point to 40.7%.
XRP's rise came amid positive sentiment for the payments tokens as Ripple founder Brad Garlinghouse said Thursday its ongoing defense against a lawsuit brought by the U.S. Securities and Exchange Commission was going "much better than expected"
Ripple, which uses XRP in its payments protocol, disputes the SEC's contention that the XRP token was issued and sold asan unregistered security to U.S. investors.
XRP broke over resistance at $0.75 to as much as $0.80 in Asian hours on Friday before slightly retreating. If the current buying power continues, the tokens could regain the $0.82 and above levels.
Positive proceedings have historically caused a surge in XRP prices as investors see the ending of a legal case as an overall bullish sign. In February, for instance, XRP climbed 22% as important documents related to the case were ruled to be unsealed.
Meanwhile, DOGE's rise came as Tesla CEO Elon Musk offered to take over the entirety of the popular social media platform Twitter. Musk holds a 9.2% stake and has offered to take Twitter private at a valuation of $54.20 per share.
DOGE rose to resistance of 15 cents on Friday morning from Thursday's $0.13 levels, price charts show. Current price action could see DOGE continue a broader uptrend since March, when prices rose from the $0.11 mark.