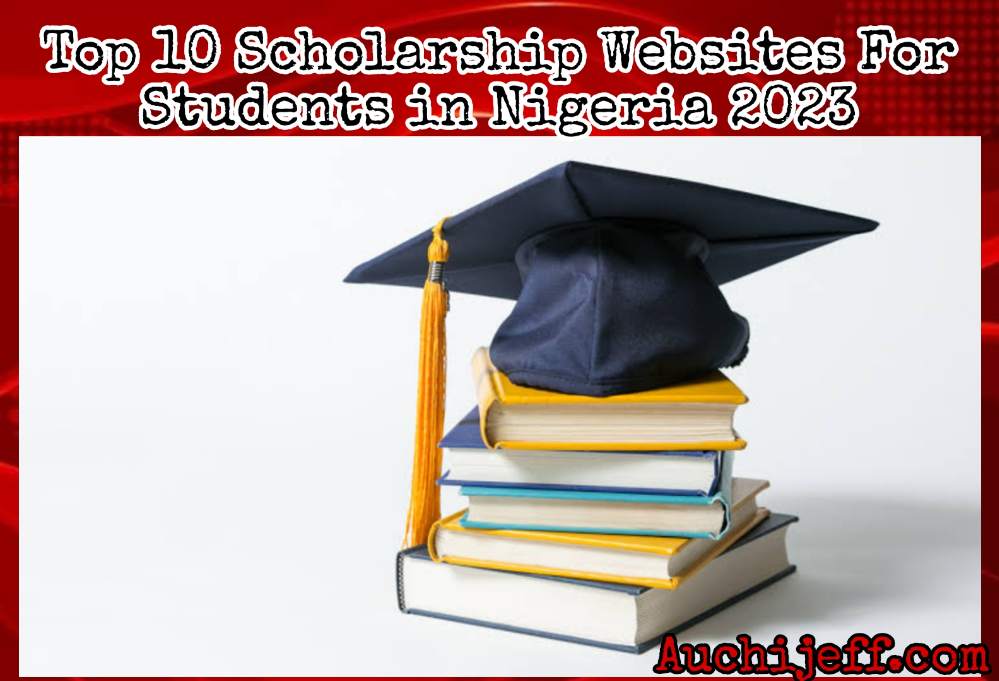 Auchijeffblog is known by majority to be a content writing site that ensure to give you up to date biography and other news update. In this article, just as it is stated below Auchijeffblog will be taking you on a full tour on the top 10 Scholarship websites for students in Nigeria.

All you have to do is to keep reading so as to be enlightened because Auchijeffblog will be bringing to light more details scholarships in Nigeria. Don't forget to share this article to your friends so as to keep them updated about recent happenings.
Young Africans are typically smart, ambitious and hard working. But their paths are littered with frictions and roadblocks limiting them from reaching their full potentials.We believe that young Africans can achieve greater success and make significant impact, if presented with opportunities that align with their potentials and ambitions.
With scholarship and fellowship programs, they can get the education and experience they would not ordinarily have.With funding and mentorship programs, they can better pursue their entrepreneurial dreams.
With leadership programs, they can develop their leadership and communication skills With the right exposure and experience, they can better influence and impact their local and global community.
Looking for scholarship programs in Nigeria is like searching for water in the middle of a desert, that is it is practically impossible to find if you don't where to look. To make it easier for you Auchijeffblog have compiled a list of websites with scholarship programs available for Nigerian students in and outside the country.
Without much further ado here are the top 10 scholarship websites for students in Nigeria.
10. Currentschoolnews
Current School News is a subsidiary school news portal with an aim of providing useful and valuable information about Higher Institutions, Scholarships, Study-abroad, Jobs, Sport, Tech, Health and much more to students at all levels of education – Undergraduate, Masters, Doctoral and Post-doctoral levels.
If you are already a students or graduates of any higher institution, but searching for jobs or scholarships in other to support your education, then subscribe to our platform today
Website: Currentschoolnews
9. Scholarshipsads
Scholarshipsads.com is an online plateform which gathers information regarding scholarships openings, PhD positions, bursaries information, merit scholarships, and other study related grants for Masters, Undergraduate, Postgraduate , Fellowship, short term courses and other trainings from different sources i.e newspapers, colleges and universities websites etc and share all available updates on scheduled basis.
At scholarshipsads.com you can get information regarding latest scholarship opening. The scholarships are categorized by country awarding, targeted student nationality, subject wise, degree wise, reasearch proposal wise and other relavent criterias to help international students. The scholarship openings are helpful for students all around the world seeking financial means for higher education abroad.
Website: Scholarshipsads
8. Myschoolgist.com
Myschoolgist is meant for sharing educational news from various sources. MySchoolGist to serve as a platform to disseminate quality, credible and dependable information regarding various happenings in Nigeria education system.
They strive to keep Nigerian youths and students informed where they compiled bother local and international opportunities available and beneficial to Nigerian Students.
Website: Myschoolgist
7. Study-domain
Lowest tuition universities blog is a big study abroad brand. Here, we provide you with universities' application guide, study abroad tips, list of universities you can study abroad at very inexpensive rates.
Lowest tuition universities blog strives to serve you better by going down the list to bring schools that operate on free or low tuition fees. Kufre Isaac Akpan is the CEO of this blog.
Website: Study-domain
6. Myschool
MYschool.ng is basically the number one educational website in the country. Aside from disseminating quality, credible and dependable information regarding various happenings in Nigeria's education system, they also provide educational resources such as past questions, exam syllabi, and course outlines. e.t.c.
To crown off their status as the number one educational blog they also provide scholarship opportunities for students of all levels (Undergraduate and Postgraduate)in and outside Nigeria.
Website: Myschool
5. Scholars4dev
Scholars4dev (scholarships for development), and it is one of the few scholarship websites available for Nigerian students. This site is an updated listing of international scholarships that are open to students from developing countries and international students in general.
Scholars4dev helps applicants find the best international scholarships to either study abroad or in their country of residence to further their education
Website: Scholars4dev
4. Worldscholarshipforum
WorldscholarshipForum is basically a scholarship search engine online for students in Nigeria and all over the world. The platform has an algorithm that gives you the required scholarship information based on your location, acting as a mediator between the sponsor and the applicants.
World scholarship forum reaches out to students interested in quality education sponsored by the corporate and social arms of companies, institutions, governments of nations, and well-meaning individuals
Website: Worldscholarshipforum
3. Afterschoolafrica
AfterSchoolAfrica (ASA) is the go-to source for Young, Smart & Ambitious Africans, to explore capacity development Opportunities including local/international scholarships, competitions, funding & grants, youth events & conference opportunities.
Afterschoolafrica's mission is to help and drive young Africans to actively explore opportunities to develop their capacity
Website: Afterschoolafrica
2. Scholarshipair
Scholarshipair is an online scholarship portal. The platform make scholarship search easier online by sourcing for ongoing scholarships for Nigerians and arranging them in a way that it will be easier for students to check. Each scholarship has an application link through which the student follow to apply for the scholarship.
In addition, they equally write and publish amazing scholarship tips to guide students while searching and applying for scholarships and they are certified to make it easy for Nigerians to discover ongoing scholarship opportunities with our technology. Their team comprises of great content developers and experienced software developers that knows how best scholarship opportunity should be presented. ScholarshipAir was founded in the year 2019 by two brothers Eze Kasie and Eze Chima
Website: Scholarship
1. Scholastica
Scholastica is one of the many website where students can get access to scholarship proposal, they help to harmonize the information required for most scholarship applications. To reduce the burden of filling new applications each time there is a scholarship announcement.
The Scholastica experience begins with a thorough review of your program objectives and application process from start to finish. Our keenly built electronic system is designed to simulate your organizational processes and objectively screen demands with respect to your scholarship or bursary scheme.
Website: Scholastica
Conclusion
In conclusion, Auchijeffblog have been able to put above the top ten scholarship website in nigeria so as to ease the stress for students who want to apply for scholarship.
If you think we didn't add any to the list feel free to drop comments below.
Brief History of the Top 10 Scholarship Websites in Nigeria
Scholastica.ng
Scholarshipair.com
Afterschoolafrica.com
Worldscholarshipforum.com
Scholars4dev.com
Myschool.ng
Study-domain.com
Scholarshipsads.com
Myschoolgist.com
Currentschoolnews.com
Disclaimer : No copyright infringement intended.
All rights and credits reserved to respective owners.