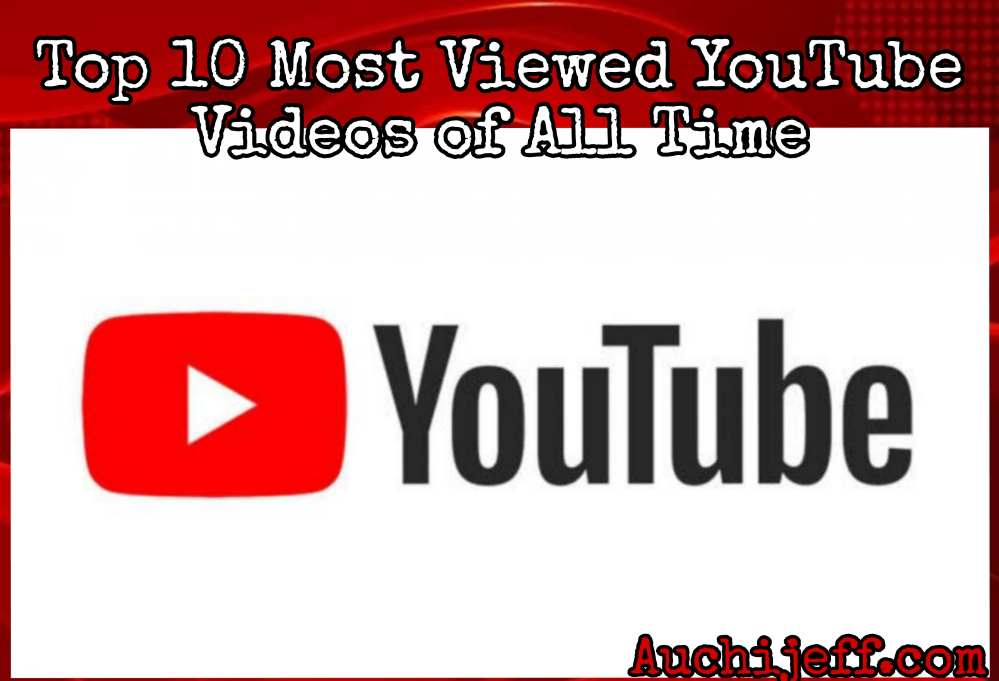 Auchijeffblog is known by majority to be a content writing site that ensure to give you up to date biography and other news update. In this article, just as it is stated below Auchijeffblog will be taking you on a full tour on the ten most viewed video on youtube.

All you have to do is to keep reading so as to be enlightened because Auchijeffblog will be bringing to light more details about YouTube's most viewed video. Don't forget to share this article to your friends so as to keep them updated about recent happenings.
YouTube as we all know is an American online video sharing and social media platform headquartered in San Bruno, California. It was launched on February 14, 2005, by Steve Chen, Chad Hurley, and Jawed Karim. It is owned by Google, and is the second most visited website, after Google.
YouTube is a free platform that has grown significantly over the last decade many people have created successful careers out of this platform the richest African YouTubers have fat bank accounts they make money after monetizing their videos.
The amount made is based on clicks and Impressions by the audience without much furtherado Auchijeffblog have gathered below the top ten most viewed YouTube video of all time.
10 Most-Viewed Video on YouTube of All-Time
1. "Baby Shark Dance" by Pinkfong – (12 Billion views)
"Baby Shark," a children's song that may already be stuck in your head, has become the most viewed video on YouTube, surpassing 10 billion views on the platform earlier this week.The video was uploaded to YouTube in June 2016 by Pinkfong, a South Korean education company, and recorded by singer Hope Segoine.
By March 2020, the video had already amassed over 4.6 billion views, making it one of YouTube's top five watched videos of all time, the Associated Press reports. By November 2020, "Baby Shark" had been viewed over 7.04 billion times, making it the most viewed video on YouTube.
On Jan. 13, "Baby Shark" became the first video on the platform to surpass 10 billion views, Pinkfong announced. YouTube even took notice, tweeting a link to the video and adding "ten billion views doo doo doo doo doo doo." "Baby Shark" outranks YouTube's second-most viewed video, "Despacito," by about 3 billion views.
2. "Despacito" by Luis Fonsi feat. Daddy Yankee – (8.1 Billion views)
Despacito is the first Spanish-language song to make it to the top of the Billboard Hot 100 list since 1996. Luis Fonsi and Daddy Yankee graced the world with "Despacito" in January of 2017. Since then, it has become a globally loved feel-good and go-to party song. Today, it hit a whopping number of YouTube views: 8.1 billion, and it is currently the world most viewed music video on YouTube.
"Despacito" means "slowly" in Spanish — yet its rise to popularity has been anything but slow.The video surpassed 3 billion views just 203 days after its launch, making it the most viewed video ever.
But three years later, it still holds the title of the most viewed video on YouTube.With the views passing 6.8 billion and the world population being 7.8 billion, it's safe to say almost every single person on our planet knows Despacito.
3. "Johny Johny Yes Papa" by LooLoo Kids – (6.55 Billion views)
The meme is named after the song at its center, "Johny Johny Yes Papa," which is the foundation for an extremely trippy viral video that racked up nearly 300,000 likes when it was casually shared on Twitter last week by a user who offered the crass but admittedly apt commentary, "i'm losing my fucking mind."
The video has since been yanked from YouTube due to a copyright claim — more on that in a moment — but not before the meme it spawned took on a life of its own.No description of the video can really do it justice; to truly understand the sordid tale of "Johny Johny," you'll have to watch for yourself. While nearly all other iterations of this particular version have been scrubbed from the web, you can enjoy a fun remix of the song itself, complete with the meme-starting melody and vocals.
In short, it's a largely nonsensical animated joint about a kid named Johny, set amid a candy-colored backdrop and a pulsing uptempo beat. It's two minutes and 22 seconds of Johny sneaking around to eat plain sugar straight from a jar and getting caught by his mustachioed dad, with plenty of dance breaks.
4. "Shape of You" by Ed Sheeran – (5.86 Billion views)
Ed Sheeran is closed out 2021 with a major achievement under his belt. On Wednesday (Dec. 22), the singer posted a video to his Instagram announcing that his 2017 hit "Shape of You" has become the first song in Spotify's history to reach 3 billion streams"I've just heard 'Shape of You' has reached 3 billion streams on Spotify, which is absolutely insane. I remember this song hitting a billion and thinking that that was weird," Sheeran said.
"The first song to hit 3 billion streams and I'm really, really chuffed with it. Thank you, Spotify, for your support over the years. We've had a great 10 years together and hopefully, we have a great 10 years more "Shape of You" would go on to spend a total of 59 weeks on the Billboard Hot 100 chart; the tracked stayed at the No. 1 spot for 12 weeks.
5. "Bath Song" by Cocomelon Nursery Rhymes (5.84 Billion views)
6. "See You Again" by Wiz Khalifa feat. Charlie Puth – (5.72 Billion views)
7. "Phonics Song with Two Words" by ChuChu TV – (5.1 Billion views)
8. "Uptown Funk" by Mark Ronson feat. Bruno Mars – (4.8 Billion views)
The song is a funk-pop, soul, boogie, disco-pop and Minneapolis sound track. It has a spirit akin to the 1980s-era funk music. Its lyrics address fashion, self-love and "traditional masculine bravado", performed in a sing-rapping style filled with metaphors, arrogance, charisma, and fun.
Upon its release, the single received generally positive reviews from critics, who praised the instrumental, style and influences of the track. Others criticised it for not being innovative as it tried to emulate 1980s funk music.
Commercially, the song topped the charts of 19 countries and reached the top 10 of 15 others, making it the most successful single of Ronson and Mars to date.
9. "Wheels on the Bus" by Cocomelon Nursery Rhymes – (4.8 Billion views)
10. "Learning Colors – Colorful Eggs on a Farm" by Miroshka TV – (4.75 Billion views)
Conclusion
In conclusion, Auchijeffblog have been able to put above the top 10 most viewed video on YouTube.
If you think we didn't add any to the list feel free to drop comments below.
Frequently asked questions about Youtube
Question: Why are Kids Songs so Popular on Youtube?
Answer: There are several reasons why kids songs, including nursery rhymes, are so popular on YouTube. The first reason is that they are a timeless form of entertainment.
Nursery Rhymes on YouTube have become a business, with creators monetizing their content through advertising, merchandise, and sponsorships. This has led to an increase in the number of nursery rhyme videos being created and shared on YouTube, making them more accessible to a wider audience.One of the most common ways to monetize nursery rhyme videos on YouTube is through advertising.
Creators can sign up for the YouTube Partner Program, which allows them to place ads on their videos and earn money from views. This can be a significant source of income for creators who have a large number of views and a dedicated audience.
Additionally, YouTube provides an easy and accessible platform for parents and caregivers to share these songs and videos with their children, making them even more popular. With the click of a button, parents can share a video with their friends and family, which can make it go viral.
Disclaimer : No copyright infringement intended.
All rights and credits reserved to respective owners.