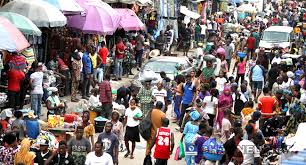 A market is a place where buyers and sellers can meet to facilitate the exchange or transaction of goods and services. Markets can be physical like a retail outlet, or virtual like an e-retailer.The seller sells goods and services to the buyer in exchange of money. There has to be more than one buyer and seller for the market to be competitive.

Walking into a Nigerian market, especially any of these listed here, requires a certain skill that has been mastered by mostly mothers. These markets stock anything imaginable, from Gucci shoes and bags to palmoil.
Business people tend to use the term 'market' to describe the groups of individuals or organizations that make up the pool of actual and potential customers for their goods and services.
Below are the top 10 most visited markets in Nigeria.
1. Onitsha Main Market, Anambra
This is one of the largest markets in West Africa based on geographical size and volume of goods.
The town is located on the east bank of the Niger River that joined the Anambra River. The building that made up the main market Onitsha was regarded as the largest in Nigeria.
Most of the major import merchants from Eastern Nigeria have their head offices within the market.
Main markets have experienced different fire incidents over the years, witnessed many fire outbreaks, hence the reason for fire service stations at various points in the city.
2. Computer Village, Ikeja, Lagos
The Computer Village is an Information and Communications Technology (ICT) accessories market located in a community called Otigba, located at Ikeja, the capital of Lagos State, southwestern Nigeria.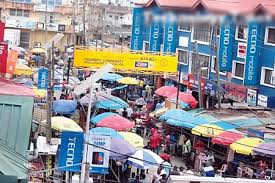 The market and its wide range of business activities gives opportunities to computer engineers and technicians who specialized in the repair of faulty computers and mobile phone to transact businesses with dealers of ICT accessory.
3. Ariaria International, Aba, Abia
Ariaria International Market was established in 1976 following a fire outbreak that destroyed the old Ekeoha Market in Aba.
Manufacturers in the market boast that their clientele base extends beyond the shores of Africa.
The Ariaria International Market is an open-air market located in Aba, a city in Abia State Southeast Nigeria.The market is one of the largest markets in West Africa and nicknamed "China of Africa" because of its versatility in the making of wears and leather works.
4. Balogun Market (Marina, Lagos)
Balogun Ajeniya Market is a market located on Lagos Island in Lagos State, Nigeria.The market has no particular address because it sprawls across so many streets on the island.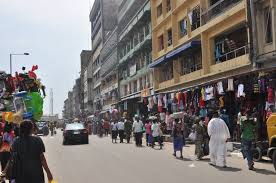 Balogun market is recognized as the best place to buy fabrics, shoes , and all sorts of wares.
5. Ladipo Market, Mushin, Lagos
Ladipo is the largest spare part market in Nigeria in terms of availability, because it's close to the Lagos port.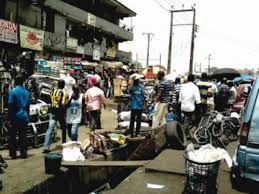 Electrical and mechanical spare parts of any kind, new and old, of any car brand is available here. This is where other sellers come to purchase parts.
6. Oil Mill Market, Port Harcourt, Rivers
The Oil Mill Located in Port Harcourt is also known as the Wednesday Market. They deal in Palm products and many more.
Although the market is meant to hold once a week, its surroundings have evolved to an everyday market zone while the main market days remain the busiest day.
7. Kasuwa Kwari Market, Kano
Kasuwar Kwari market in Kano has everything clothing and textile materials.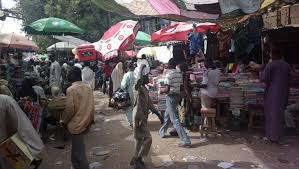 This market is where people from all over Nigeria, and even west Africa, come to purchase quality handmade, tie and dye fabric at a cheap cost to sell elsewhere.
8. Alaba International Market (Lagos)
Alaba international market is an electronics market located in Ojo, Lagos State, Nigeria. It is the largest electronics market in Nigeria. Apart from the sales of electronic products, the markets also deals in the repair of home appliances.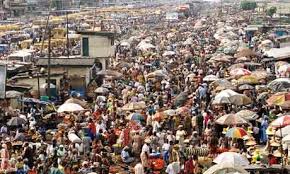 This market is also known for the high criminal activities that go on there like bag snatching and pickpocketing so you have to shine your eyes and be at alert whenever you visit this market.
9. Zaki biam yam market (Benue)
Despite its pretty basic appearance, it's not for nothing that this yam market carries the tag international, with clients from all over Nigeria as well neighboring Ghana and Cameroon.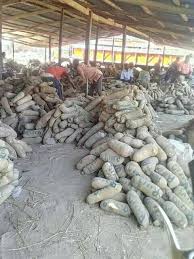 Buyers from different parts of the the country meet with farmers and other first-hand sellers to purchase yams in huge quantities. This is the best place to buy yams at a very low cost because a high percentage of the sellers locally cultivate the yams.
10. Bodija market, Ibadan, Oyo
The market was established in October 1987. Its establishment came as a result of growth and overcrowding at the Orita Merin foodstuff market in Ibadan.
The Oyo State government under the military administration of Tunji Olurin then relocated many food stuff traders from Orita Merin to the new Bodija market in 1987.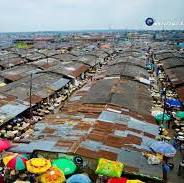 This allows produce farmers from Northern Nigeria and from Northern Oyo state easier access to transport their produce to the market. Also, a timber market exist in close proximity to Bodija.
Disclaimer : No copyright infringement intended.
All rights and credits reserved to respective owners.