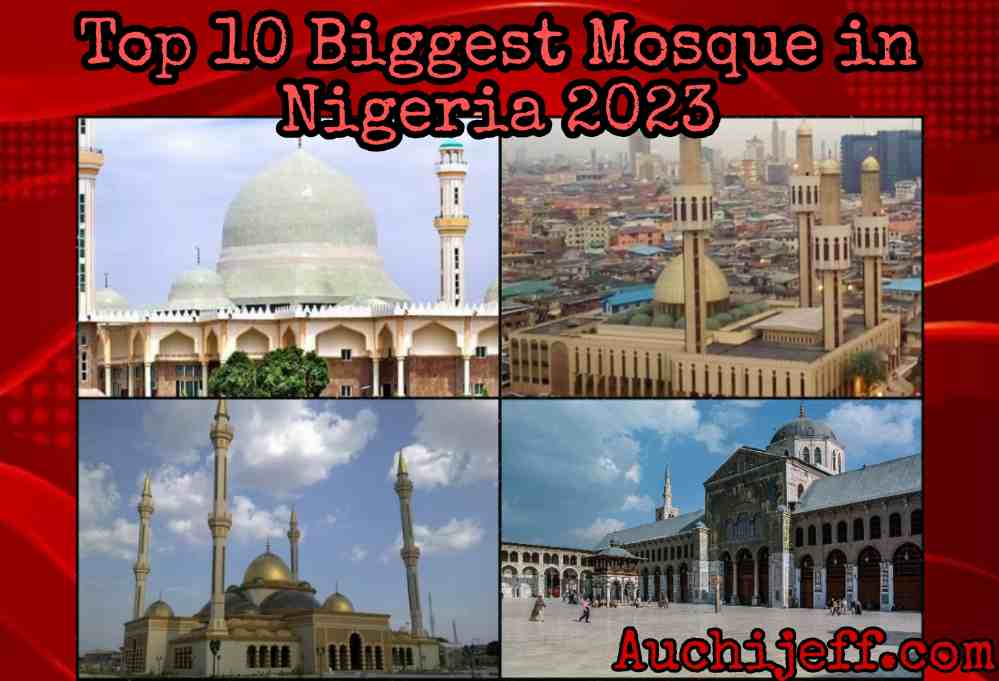 Auchijeffblog is known by majority to be a content writing site that ensure to give you up to date biography and other news update. In this article, just as it is stated below Auchijeffblog will be taking you on a full tour on the biggest mosque we have in Nigeria.

All you have to do is to keep reading so as to be enlightened because Auchijeffblog will be bringing to light more details about the mosque we have in Nigeria. Don't forget to share this article to your friends so as to keep them updated on the recent happenings.
Nigeria is a country with a very large Muslim population and as you're aware, Muslims worship in the mosque. A mosque, also called masjid, is a place of prayer for Muslims. Mosques are usually covered buildings, but can be any place where prayers are performed, including outdoor courtyards. The first mosques were simple places of prayer for Muslims, and may have been open spaces rather than buildings.
A Mosque is regarded as a religious center, Mosques commonly serve as locations for prayer, Ramadan vigils, funeral services, marriage and business agreements, alms collection and distribution, as well as homeless shelters.
Historically, mosques have served as a community center, a court of law, and a religious school. In modern times, they have also preserved their role as places of religious instruction and debate.
Would you like to know the largest mosques in Nigeria? Without much furtherado Auchijeffblog will be bringing to light more details about the 10 biggest mosques in Nigeria
Top 10 Largest Mosque in Nigeria 2023
10. Bashir Uthman Tofa Mosque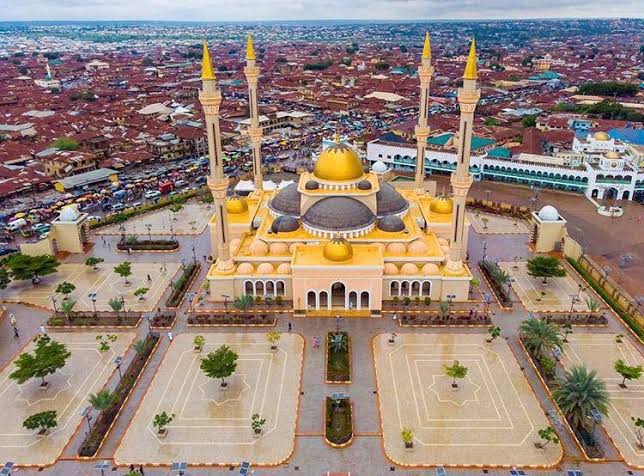 This mosque is often regarded as the most beautiful mosque in Nigeria. It has a masterpiece architectural design and a well-details finishing. Astonishing!Although this place still hasn't been declared as a tourist attraction by owner and still remains closed to public except for prayer purposes which allows it to be opened 5 times a day at those prayer time.
This mosque in comparison to other mosques in Kano can be rated 5 star as it has second to none.The mosque is equipped with all modern facilities needed for worshippers to use when performing their prayers. Standard International finishing with ablution section as well as convenient place.
The interior finishing is also perfect with luxurious mosque carpet layed down and the 4 walls were decorated with golden colour Arabian designs. Maximum security is also maintain as the guards are in constant surveillance until when prayer in finished.
9. Great Mosque of Kano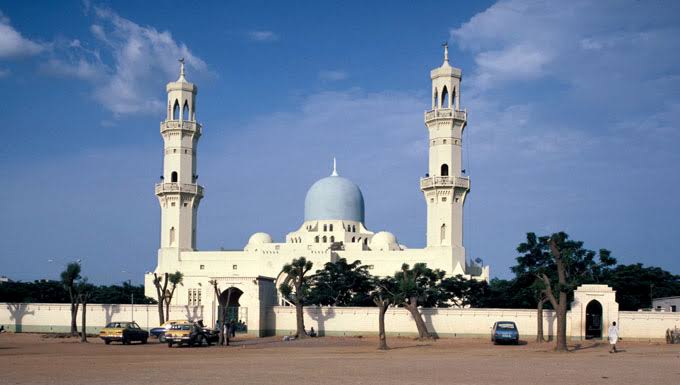 The Great Mosque of Kano is a general Jumaat mosque in Kano, the capital city of Kano State and the second most populous city in Nigeria. The mosque is situated at around the Heart of the city around the Mandawari area of the state. Great Mosque of Kano was built in the 15th Century. It is notable as as one of the oldest mosques in the country, having existed for close to 500 years.
The great mosque was built for Muhammad Rumfa in the fifteenth century. It was made of mud, and was of the soro, or tower, variety. It was moved to a new site by Muhammad Zaki in 1582, and rebuilt in the mid nineteenth century by Abdullahi dan Dabo. It was destroyed in the 1950s, and rebuilt with British sponsorship.
8. Lekki Central Mosque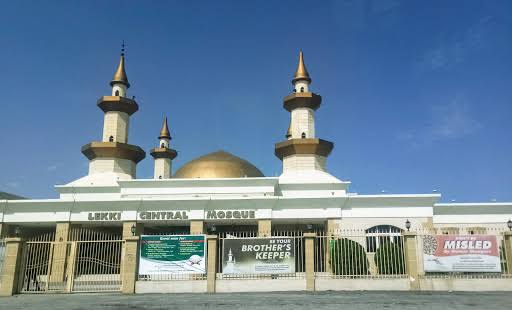 Lekki Central Mosque is located on Hakeem Dickson street in Lekki phase 1. This amazing structure of worship is the biggest central Mosque in the entire Lekki peninsula that I know. The Mosque is neat and has a good ambience. The interior has an appealing work of art on the walls and ceilings.
This mosque also has a library where you can study with reference materials not to mention the nursery and primary school within the mosque premises. On Fridays, the crowd that worship here is overwhelming.The mosque was well built and well designed. Lots of space to move around and lots of air. The parking is also abundant so it was well thought out.
The imams too are blessed with knowledge and is an overall great place to learn the deen. Very suitable area to say your prayers and enjoy them.This mosques is very big, takes a lot of people all at once, very organized, PA system 8s very effective, ventilation is also pretty good even with the large number of people.
7. Maiduguri Central Mosque
Maiduguri Central Mosque
Maiduguri Central Mosque is one of the largest mosques in Nigeria. The Mosque is within the reach of the largest population due to it being in the heart of the metropolis. It is located at the Shehu of Borno palace in the heart of Maiduguri the capital of Borno State.
Maiduguri Central Mosque was the City's Largest and best biulds Mosque, situated adjacent to the Shehu's Palace.The Mosque was first built in 1918 before it was demolished in 1986 for the purpose of expansion and remodeling. Influential indigenes and previous governments had tried to complete the mosque, but the project was stalled until it was restarted by the Governor Kashim Shettima administration and completed in late 2018 after 33 years of its commencement.
6. Syrian Mosque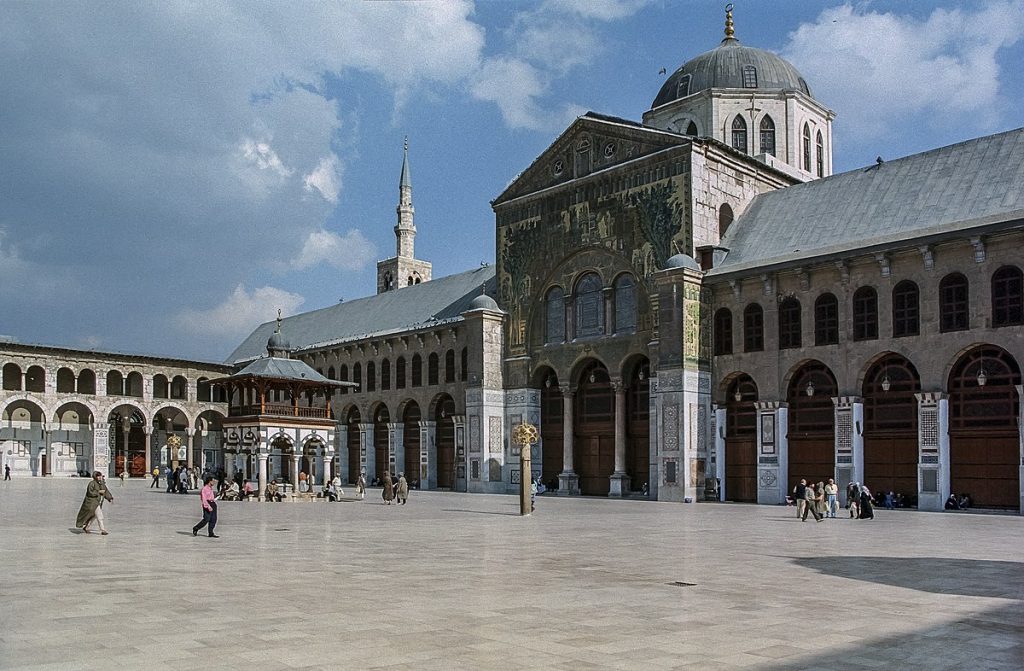 The Syrian Mosque in Ikoyi is close to Sultans Pizza & Fast Food and the Syrian Club. It's very well-kept and the air conditioning is fantastic. Outside, fans have been placed to keep the extension adequately ventilated. This is a fascinating Muslim place of worship. It has a typical worship space for both men and women, as well as a dining area within the parking lot.
The eat-in area features largely Asian-style fast cuisine as well as a children's play area. They also have amazing reciters as imams, and you can have Jumu'ah services in both Arabic and English.One of the libraries is electronic. It also has 90 toilets, 18 conveniences, eight water reservoirs, a dedicated transformer, two stand-by power generators, and many others.
5. Lagos Central Mosque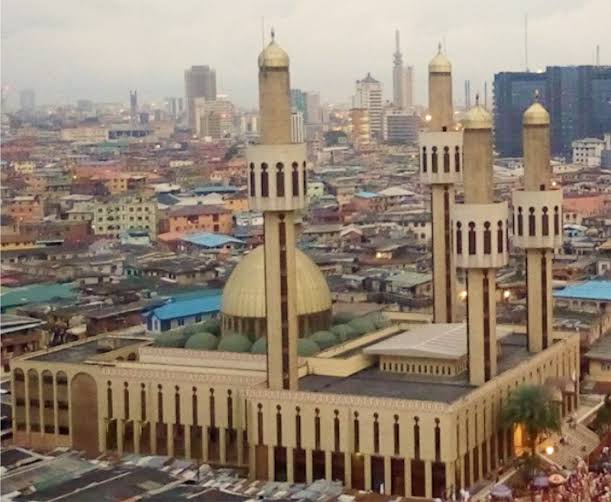 Lagos state central mosque located in the heart of Lagos Island is a gigantic edifice that signals the presence of Islam in Lagos. It is popularly called Moshalashi Jimoh. And located on Nnamdi Azikiwe street. Very close tobit is Balogun market, Idumota and Idumagbo markets. Looking for Parking space is a no go area as the environs is filled with people and activities all year round.
Lagos Central Mosque is an important jum'at mosque in Lagos Island and home of the Chief Imam of Lagos. It is located along the busy Nnamdi Azikiwe Street. The current Mosque was opened for use in May 1988, displacing an earlier mosque that was built between 1908 and 1913.
The central mosque is really clean and less rowdy. The area around is very calm and there are accessible shops few steps away, So when you feel like parking somewhere for a prayer while driving by.
4. Ilorin Central Mosque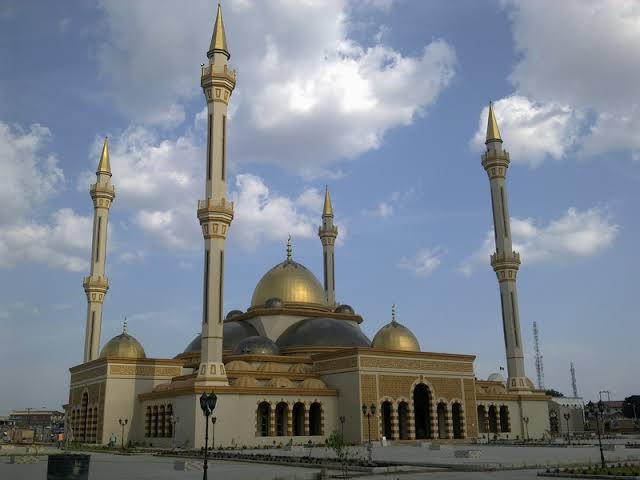 Ilorin is still a multinational city. Ilorin is the state capital of Kwara in Western part of Nigeria. The traditions of African cultures are mostly gathered here. A huge influence of Muslim traditions and Christianity is also noticeable.The mosque has several golden domes, which accentuates the majesty of this imposing place of worship.This grand place of worship is situated in the busy city of Ilorin, which has a considerable Muslim population.
The 20,000-capacity sprawling edifice was sponsored by both private individuals and the state government. The pride of Ilorin is the Central Mosque. It is located in the center of the city. To this day it attracts tourists due to its unusual beauty. The first Ilorin Central Mosque was established in 1820. It was built under the direction of Sheik Imam Muhammad Munab'bau at Agbarere Area.
3. Shitta Bey Mosque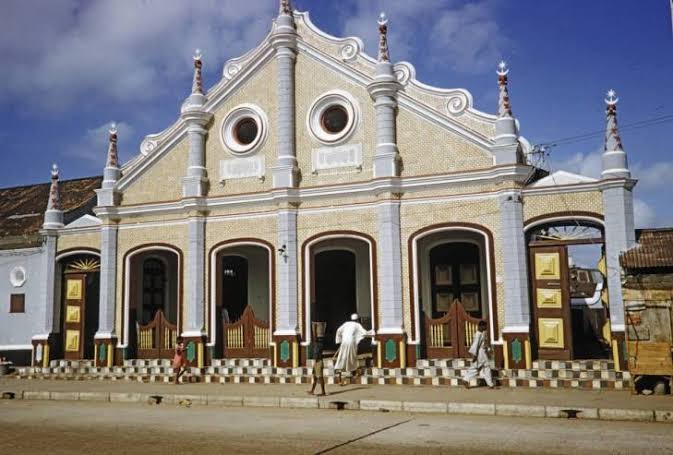 Shitta-Bey Mosque is a mosque, religious learning centre and one of the oldest mosques in Nigeria. The mosque is located at Martins Ereko Street, Lagos Island, Lagos, Nigeria. It was established in 1892 and designated as National monument by Nigerian Commission for Museums and Monuments in 2013. Shitta-Bey Mosque is a mosque, religious learning centre and one of the oldest mosques in Nigeria.
The mosque, considered one of the most important historical legacies of Nigeria, Shitta-Bey Mosque was named after its founder Sierra Leonean-born Nigerian, Mohammed Shitta Bey, who was an aristocrat, philanthropist and businessman.
2. Abuja National Mosque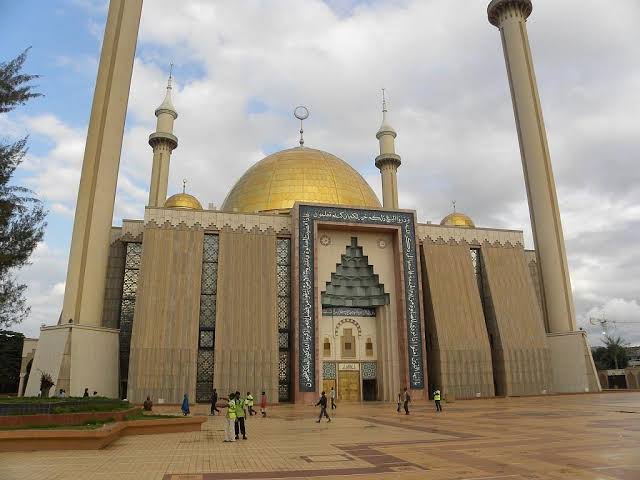 The mosque is located in the capital city, Abuja, and is situated on Independence Avenue, across from the National Christian Centre. It includes a library and a conference room. The complex includes a conference centre capable of serving five hundred persons, the office for the Islamic Centre, and residential facilities for the imam and muezzin. Abuja National Mosque, also known as The National Mosque of Nigeria, and The Nigerian National Mosque is an impressive, notable landmark situated in the Federal Capital Territory, Abuja- Nigeria's capital city.
This sprawling, incredible 'wonder' dominates the Abuja skyline, and can be seen from miles away! It is centrally located along Independence Avenue- which is just a stone's throw away from the National Christian Center. The mosque was built in the mid 1980's, during President Shehu Shagari's administration. When it was decided that the capital of Nigeria was to be moved from Lagos, (in the South) to the F.C.T Abuja- (Nigeria's 'middle belt' region), there was intense lobbying by well respected Elders and prominent Statesmen to build a general institution that would serve as a center and symbol of national unity for Muslims in Nigeria.
1. Yobe Central Mosque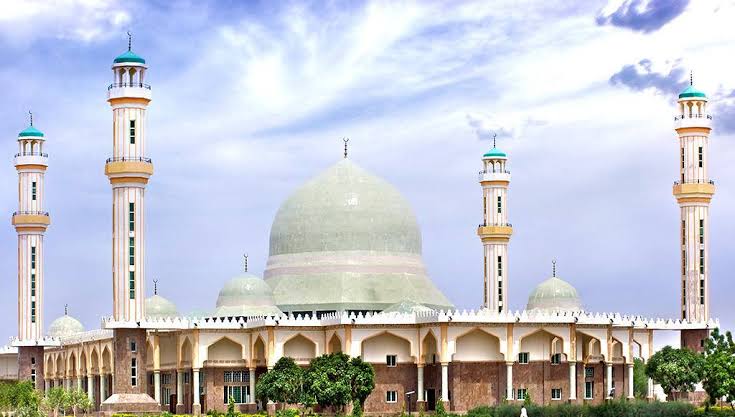 It is reputed as the largest mosque in Nigeria and one of the largest in Africa. The mosque sits in a vast land in the middle of the Yobe state capital. During Friday prayers, attendance at the mosque peak at almost 100,000.
Its a gigantic mosque capable of accommodating thousands of worshippers. It's one of the largest in Africa as at 2018. The five daily prayers and Juma'at prayers are mostly conducted in time. The interior is beautifully decorated with islamic calligraphy, huge chandeliers and marbles, the exterior is well adorned with flowers and trees, making the place so siren, cool and natural.
The mosque has abundant tap water for ablution as well as toilet facilities. The Central Mosque sits on a large expanse of land in the arid north, on the edge of the city. The mosque has distinct green bell-like domes and with four towers surrounding it
Conclusion
In conclusion, Auchijeffblog have been able to put above the biggest mosque in nigeria from the bottom to the top. If you think we didn't add any to the list feel free to drop comments below.
Disclaimer : No copyright infringement intended.
All rights and credits reserved to respective owners.