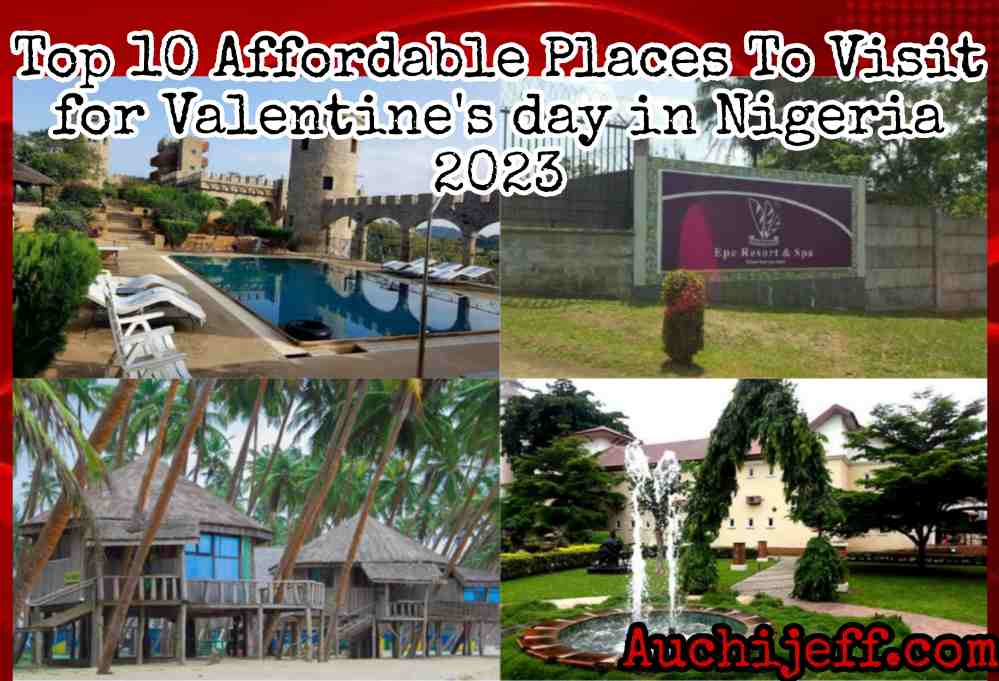 Auchijeffblog is known by majority to be a content writing site that ensure to give you up to date biography and other news update. In this article, just as it is stated below Auchijeffblog will be taking you on a full tour on the top ten affordable places to visit for Valentine's day in Nigeria you and your loved one can visit with spending much.

All you have to do is to keep reading so as to be enlightened because Auchijeffblog will be bringing to light more details the places you can visit for Valentine's day with your spouse or loved ones. Don't forget to share this article to your friends so as to keep them updated about recent happenings in Nigeria.
Valentine's Day is a holiday when lovers express their affection with greetings and gifts. It is also called St. Valentine's Day. The holiday has expanded to express affection between relatives and friends. Valentine's Day is celebrated annually on February 14.
Contrary to popular belief, this day is not only for lovers, but for all those whom we love. Of course, Valentine's Day is not the only day to share our love. Rather, it is yet another opportunity to let those whom we love know how much we love and appreciate them. Our aging loved ones have so much love to give.
Although there were several Christian martyrs named Valentine, Valentine's Day may have taken its name from a priest who was martyred about 270 CE by the Roman emperor Claudius II Gothicus. Other accounts hold that it was St. Valentine of Terni, a bishop, for whom the holiday was named, though it is possible that the two saints were actually one person.
Life is so hectic nowadays, that the idea of vacations has almost become a luxury. With people working over eighty hours per week and weekends being jam-packed with errands to run, it's no wonder that many tend to put off their plans for vacation just another day.As important as work may be, you should not let them take over your life.
Vacation are very necessary because vacations are great for unwinding and enjoying yourself, they also provide you with numerous benefits that range from stress relief to better health. Moreover, proper vacation trips can help you learn new things and experience various cultures of the world. People nowadays tend to think only about the last two points, not realizing how big of importance vacations have in our lives.
Here are the benefits of vacations for our life.Another thing about vacations is that they help you learn new things and experience different cultures of the world. Some people may think that this is something reserved for those who travel a lot or those that go on a study abroad trips, but everyone can learn something from a vacation.
Whether it's going to a new museum, trying a fusion cuisine for the first time, visiting an old historical site, or even just walking through different neighborhoods of your city, there are so many things you can learn and experience during a vacation.
Top 10 Cheapest Places to Visit for Valentine's day in Nigeria
Here's a list of ten (10) amazing, budget-friendly places to visit for a weekend getaway, family holiday or even a road trip in Nigeria and also for Valentine.
Yankari Games Reserve and Resort – Bauchi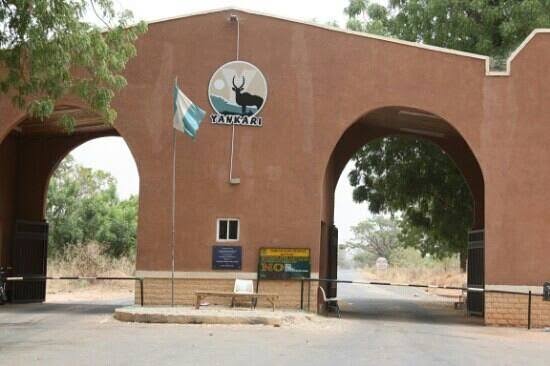 Yankari game reserve is a place I would recommend for nature lovers . There are about five natural warm springs in the reserve that would help you connect with nature , including the famous Wikki Warm Springs. You'll also find amazing trees , beautifully constructed huts alongside uncaged monkeys and baboons who are ready to break in and steal your food.I could remember losing a whole loaf of bread to one of the Baboons .
It's quite a painful sweet scenario, watching an animal break in and path away with nothing but the only loaf of bread I've got in the room, and then the thought of not finding a place to get another dawned on me at the same time.There is a restaurant and the staffs are hospitable , and also a mini museum that would enrich you with a little bit of history in Bauchi and Nigeria at large .
Now talking about the Safari the safari experience is on another level .You'll find the ancient Marshall's Cave deep in the jungle . You'll miss that if you miss out on the Safari.Connecting Yankari from any part of the North is easy as the roads are in good shape and i can assure you that it is safe to visit . I have been there on different occasions with different sets of people for different reasons and so far, there has never been a negative feedback
Kajuru Castle – Kaduna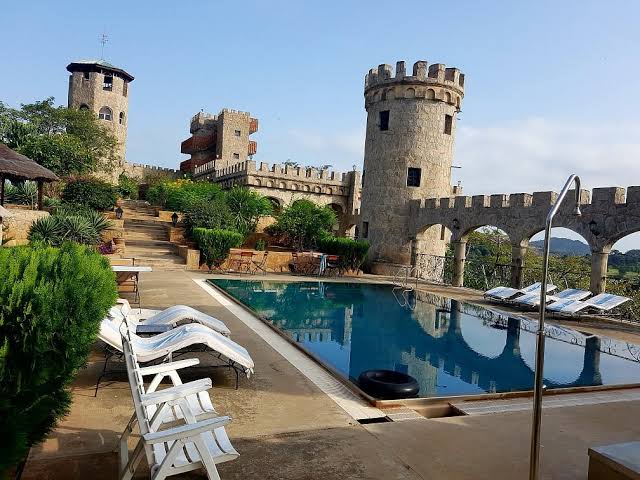 Kajuru Castle is an exclusive and luxurious total getaway built in an early medieval style at Kajuru village in the trade city of Kaduna, a major commercial hub in the northern part of Nigeria. This gorgeous architectural masterpiece with breathtaking ambience is set upon elevated peaks with staggering views.
Kajuru Castle is styled in a European and clearly German way with a baronial hall, complete with suits of armour.This castle operates on an exclusive basis and can only accommodate 12 individuals or 5 couples at a time. This tourist delight which has been the setting of popular music videos has a live crocodile while gorgeous peacocks are known to move around.
The rooms are spread across the castle's three floors which feature four dungeon rooms, a central building with an authentic knights' hall and a master's bedroom fitted with air conditioners, televisions, sofas, beds and private bathrooms, as well as a dragon tower well guarded by 'dragons'.Guests can either bring or plan for their meals or ask the management to make an arrangement with food service providers in town, who will make deliveries at an extra cost.
However, guests can choose to use the castle's sufficiently equipped kitchen. The BBQ spot beside the pool offers a wide range of grilling, baking, roasting and barbequing opportunities.
Epe Resort and Spa – Lagos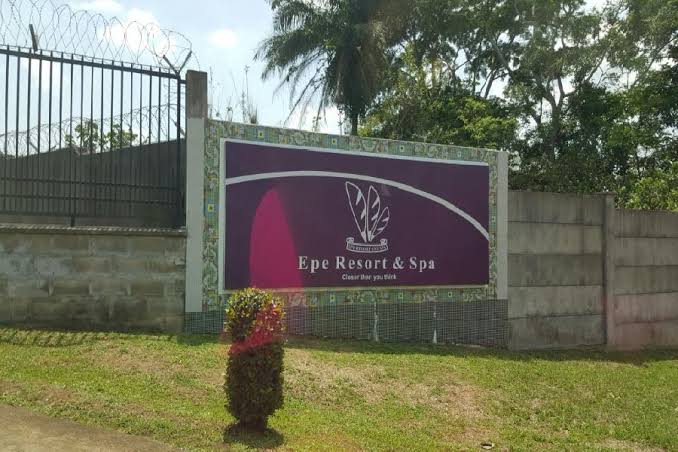 The Epe Resort and Spa is situated at the end of the Epe-Lekki Express Way after having left the busy city of Lagos.This luxurious retreat offers sanctuary to those who wish to rest their weary minds and rejuvenate their spirits. As it is adjacent to various lagoons and amongst a lush indigenous forest, you are sure to find an ambience that is peaceful and contented.
The air and the endless clear skies invite you to relax and dream, therewith touching your soul.Within this sub-tropical paradise you will find the highest expression of exclusive hospitality where guests will enjoy world-class service, relaxation and comfort thus ensuring an unforgettable experience.
You can also Indulge yourself in a break out of Lagos State's most enviable resort destination Epe Resort and Spa. Let warm days and twinkling nights form the backdrop to your holiday of lively activities, culinary excellence, luxurious pampering and endless entertainment.
Obudu Mountain Resort – Calabar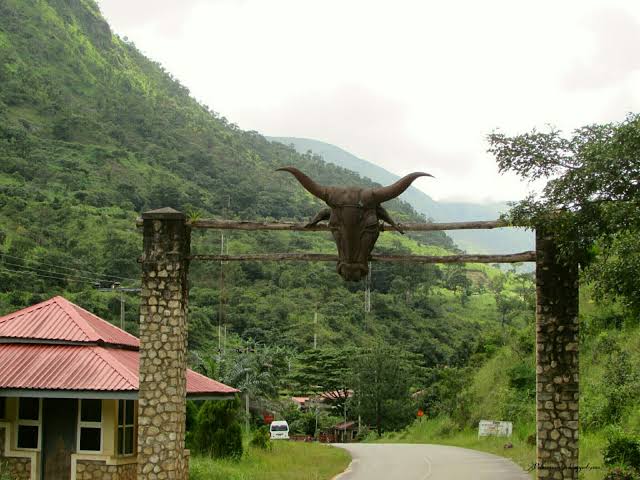 Obudu Mountain Resort also known as Obudu Cattle Ranch is one of Africa's finest and most interesting and spectacular tourist destinations. Obudu Mountain Resort is located in the highlands and deep tropical forests of Cross River State with a temperate climate at about 45 miles from the border with Cameroon.
If you are a tourist looking for a mix of adventure and idyllic tranquillity, then Obudu Cattle Ranch is the place to be. With rich natural vegetation and a picturesque view, Obudu is increasingly becoming popular amongst tourists from all around Nigeria and Africa as a whole.The ranch has numerous pleasant and beautiful mountain-area and country-side views, with a well preserved and calm Serene to suit all our guests.The Canopy Walkway is a 100m swinging bridge suspended above the forest.
Obudu Mountain Resort is 1576 metres above sea level. To get there, you can either drive the famously winding 11km road from the bottom of the hill or take the cable car. The drive takes about 25 minutes while the cable car ride takes about 6 minutes.
Tinapa Business Resort – Calabar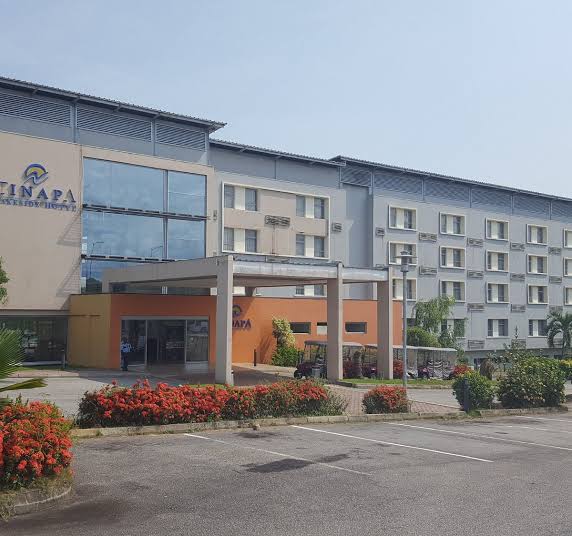 The Tinapa Business and Leisure Resort is a public private partnership project located on Nigeria's Calabar River and according to arup.com, it is a significant trading hub for West Africa.They provided project management, design and site supervision for civil, structural, mechanical and electrical engineering services.
Feasibility studies and water engineering were also a significant part of the project.Water services for the project included design of ground storage reservoirs, a reinforced concrete water tower, pumping stations, sewage treatment and irrigation systems.The first two phases of the resort development included a wide range of commercial property: hotels, an 80,000m2 shopping complex, cinema, casino, children's attractions and parking facilities.
Conference and business centres and three smaller boutique stores are also part of the development.The large retail spaces are cooled using chilled-water air handling units. Chilled water is generated in a dedicated compound and distributed throughout the development by the cooling system.Strong collaboration between Arup's offices in the region proved key to this fast-track project completing on time in a challenging business environment.
Ikogosi Warm Spring Resort – Ekiti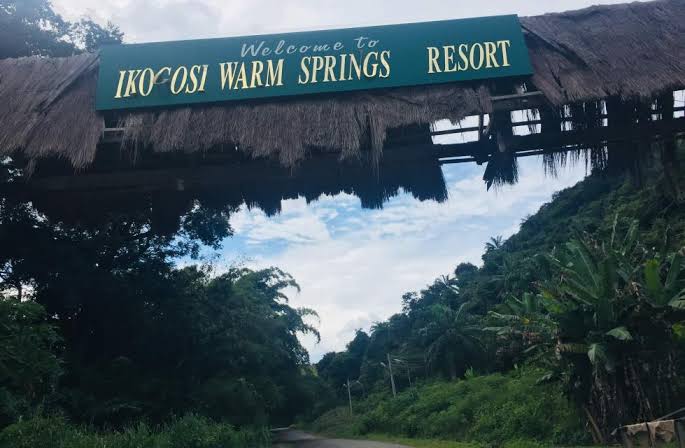 The Ikogosi Warm Springs is a tourist attraction located at Ikogosi, a town in Ekiti State, southwestern Nigeria, Flowing abreast the warm spring is another cold spring which meets the warm spring at a confluence, each maintaining its thermal properties, These attributes make the spring a tourist attraction in Nigeria, Water from the rocks are of different temperatures, One warm and one cold.
It's not just the water, there's a certain serene feeling that comes once you get into the water. Infact it is surreal. The guide told us people come there to pray because they believe the water has some powers. I did say a prayer for Wisdom and Wealth. It is easy to walk on the rocks in the water, as long as your footwear has a grip.You can't get to the source, but you can see where it flows from.
The place is poorly managed sadly. However on the one side is what used to be a zoo and there's the pool too, outside the spring area. It's water is straight from the spring. But from Ado, the Ekiti State Capital, it's about 60mins. Great location for a getaway for the entire family and they've got accommodation too, right across the road from the spring area. The place is safe.
Abraka Turf and Country Club – Delta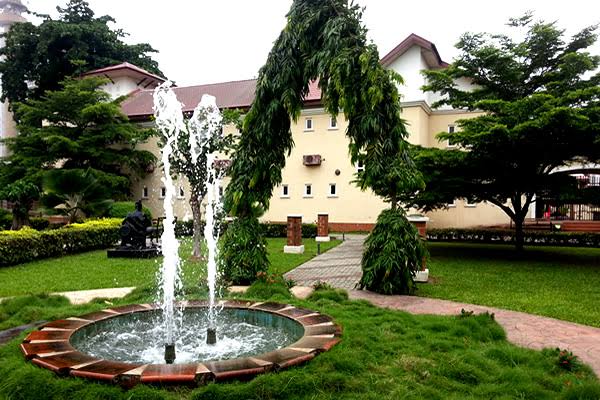 Abraka Turf is a private country club that has been created to function at the highest levels of luxury and guest satisfaction. It's Located in the exotic region of Delta state, Nigeria, our luxurious resort sits on over 100 acres of lush green land, surrounded by the ambience of refreshing gardens, exotic birds, horses and a scenic walkway to the mysterious river Ethiope.
An all-inclusive resort that defines the essence of good living, from fine dining to horseback riding, bird watching to stargazing, it is the perfect spot to escape the excessive rigors of city life and enjoy spectacular natural beauty in a secluded and serene environment.
In Addition, it is also a perfect location for movies of any theme, documentaries of the rarest rainforest wildlife, deep river life, mangrove forest, and cultural exchange on the plains of the Delta coastline.
Inagbe Grand Resorts and Leisure – Lagos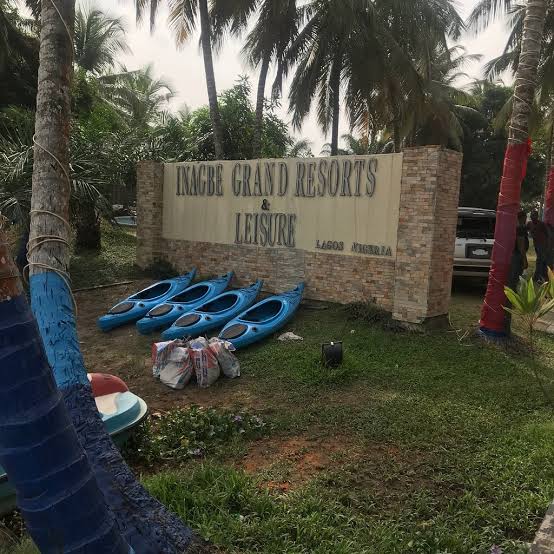 Inagbe Grand Resort and Leisure is a beautiful, serene center for relaxation, Located in Inagbe Island, towards Snake Island, along Apapa Port, Lagos, Nigeria. Inagbe Grand Resort and Leisure, is a perfect getaway for both tourists and nature lovers. Free WiFi and a host of outdoor activities are available at the premises.They have rooms in different categories, including the Standard, Deluxe, and Premium.
The rooms have adjoining sitting areas and boast stunning interior decor. Each room features full air conditioning, gleaming tile floors, ornate Persian rugs, an en-suite bathroom, a flat-screen TV with cable service and full-length windows offering a panoramic view of the beautiful surrounding.At the onsite restaurant of Inagbe Grand Resort, guests can order a variety of local and continental dishes.
For a range of soft drinks, choice wine and other alcoholic drinks, guests visit the onsite bar. The resort houses a tastefully-furnished lounge, a spa, and an outdoor pool. During leisure hours, guests may also engage in such activities as horse riding, tennis, quad biking, volleyball and other ball games.
La Campagne Tropicana Beach Resort – Lagos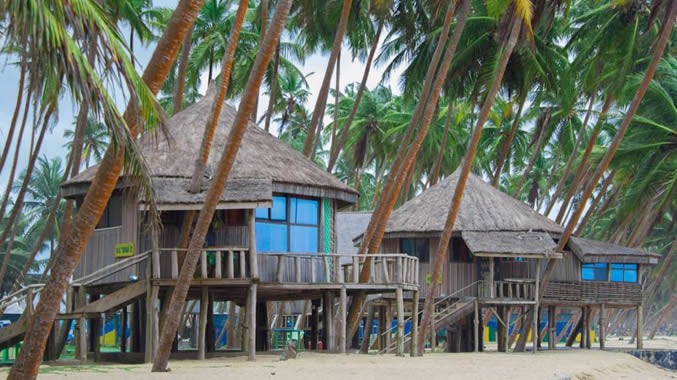 The La Campagne Tropicana Beach Resort is an African themed Forest, River and Beach Resort located in Ibeju Lekki area of Lagos, Nigeria, With over 65 acres of palm-fringed white sand beach, river and mangrove forest, our resort provides opportunities for tourists to observe at close quarters different species of plants and animals amongst which are palms, mangroves, epiphytes, monkeys, squirrels, mudskippers and birds such as bats, kingfishers, Seahawks, egrets and ducks.
The natural ambience, warm African hospitality and the luxurious comfort of our chalets are some of the unique features of our resort.The spacious chalets offer a mix of traditional architecture and furnishings with all modern amenities you would expect in a 5-star resort.
Guests can nature from the comfort of their bed or take a cool dip in their private indoor or outdoor swimming pool . If you prefer the great outdoors, they provide a range of camping options from camping by the beach or forest to camping by the riverbank.
Conclusion
According to our research this are the top 10 Affordable Valentine's day Vacation Destinations In Nigeria as at the time this article was written and reasons behind this is because many person think you need to be wealthy before you go on vacations with your loved one.
A good number of Nigerians have a dream of travelling outside the country to some exotic destination for vacation, but the cost oftentimes can be overwhelming so Auchijeffblog have taken time to research thoroughly and updated the list of the vacation destinations you can go to with your family without breaking the bank.
In addition, These above stated destinations of many benefits and vacations do not only make people happier but also more productive. Of course, if you don't have time to go on vacation, then there are other things you can do to get all these benefits, like taking short breaks throughout the day or night.
Do you have any addition or questions drop it on the comment section.
Disclaimer : No copyright infringement intended.
All rights and credits reserved to respective owners.