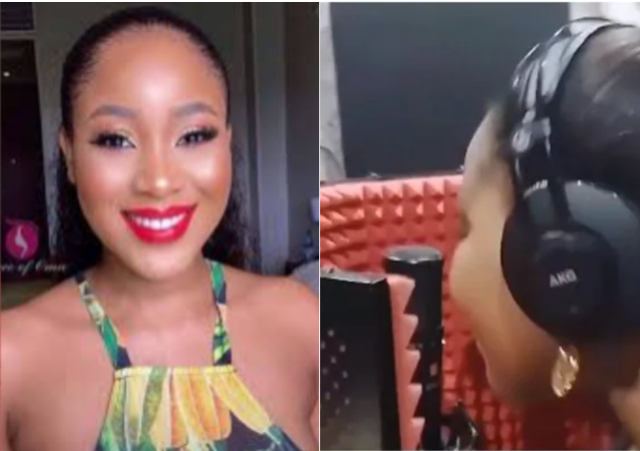 Former BBNaija housemate Erica Nlewedim , is set to take the music industry by storm after years of being in Nollywood.

The Big Brother Naija ex-housemate is joining the list of ex-BBNaija stars who ventured into music-making.
Much to the surprise of fans, has hit the studio to record some songs and she is set to release her debut single as an artiste.
According to her, the decision to join the music industry started off as a joke but it is now a rality that can no longer be kept hidden or brushed aside.
She made this known via her verified Twitter account when a fan page uploaded a video of her in the studio.
The page tweeted; ''Are we even ready for @EricaNlewedim's music era? Incoming 🔥🔥🔥💫✨"
Quoting the post, the screen diva wrote; "It started off as a joke but it's actually nice."
See her tweet below:
As expected, fans were filled with mixed emotions, ranging from shock to excitement and curiousity as to how she would perform as a musician.
@uka2003agu; We can"t wait to listen to it
Erica Nlewedim is coming
Music Twitter take note
@whodeylaffwitU; I been knew you are more talented than Bey sef since i heard ur voice🥰
@StarGirlDaily; I trust you, it's a banger! 🤩☺️
@sandy_gyal; Bring it on baby
@EricaQueenNale; I swear i can't wait for this one 😭😭😭
@Dr_Casey_; Waiting for the joke 🤣🤣
@Ericaslastborn; Even your laughter is a hit… Once you open your mouth, it's over for them betchesss 😂😂😂❤❤
@Hannieluvy; Music Twitter here we come 💃💃💃
@becksomowunmi; Waiting patiently for this hit banger
joojneverton362736; Is this playing dear? I want to believe its playing
@Marion03905844; Erica is always right. Can't wait 🥰
@Your_taboo; I'm so happy you're finally doing something with that voice of yours 🥰
@Lilybaby4real; Now it's a real and we are taking over the music industry..
@Sallypink16; Wembley stadium are you ready for ⭐️⭐️ girl 😂😂.
@RChinaun; Go get the music Babe, will are behind U Eribillionaire 💋🌟🌟🌟🌟🌟🌟🌟🌟🌟
@Zaipha__; Yupppp that's how cardi b started you just might never know ::: can wait for "Erica the musician" to take over the world
@dah_veee; And you have such a beautiful voice!😍 can't wait to listen to this!😊
@Mildr_ed; Sometimes great things start as jokes🥰💃🏽💃🏽..we're excited for this! I'm happy you are exploring the musical side of you 💃🏽💃🏽
@Eri_addict; We're selling out O2 or nothing!
@Zinnyharmony; I'm proud of you Erica. Explore every entertainment sector Dear.
@FavouredJMK; keep breaking new grounds like joke like joke my darling, it's pleasing me & my homegirls