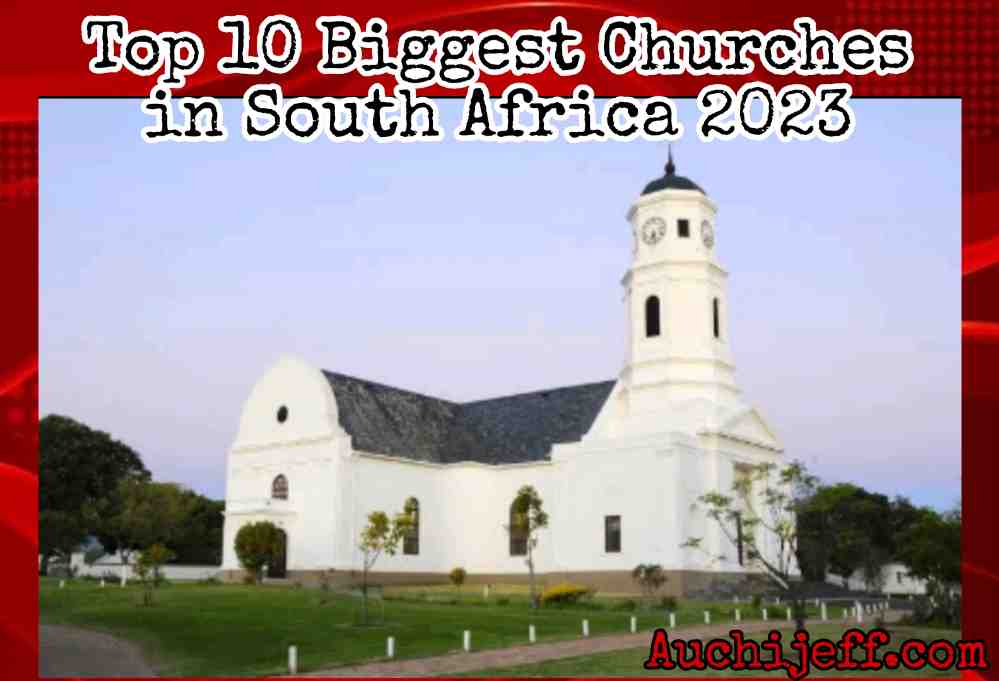 Auchijeffblog is known by majority to be a content writing site that ensure to give you up to date biography and other news update. In this article, just as it is stated below Auchijeffblog will be taking you on a full tour on the top 10 Biggest Churches in South Africa as religion is an important component of any society.

All you have to do is to keep reading so as to be enlightened because Auchijeffblog will be bringing to light more details the biggest churches in south africa 2023. Don't forget to share this article to your friends so as to keep them updated about recent happenings.
In Africa, Christianity is a religion that has spread across many nations. In South Africa, Christians form a large number of worshipers. This, therefore, translates to more churches. This is a list of churches in South Africa written in alphabetical order.
Churches are a crucial part of the South African gospel. They promote the SA (South Africa) gospel by providing shelter to congregants and believers, whenever they need it. This makes Christianity one of the most practiced religions in South Africa. However, other religions in South Africa have made significant in root into the society.
Christianity is the primary belief system in South Africa, with Protestantism being the largest denomination. Non-Christian entities in the country include Islam, Hinduism, Judaism, and Buddhism. Even though the country prides itself on being a multi-dominion country, 15% of the population do not identify themselves with any religion, the second largest group after the Protestant Christians.
The San community maintains the African Traditional Religion up to today. The Dutch and the British introduced Christianity during the apartheid era. The belief is more common among the whites and colored South Africans.
Top 10 Best Churches In South Africa
If you are also looking for churches to visit on to South Africa, here is a list that can guide you through the country's religion hotspots. Have a look!
1. Zion Christian Church
The largest and fastest-growing of the African independent churches in the 1990s is the Zion Christian Church. Its members is estimated to number between 2 million and 6 million in more than 4,000 parishes, live primarily in urban townships and rural communities. The church is well known by the abbreviation, ZCC, pronounced "zed-see-see."
The ZCC was established in 1924 by Joseph Engenas Matlhakanye Lekganyane, a farm worker in a rural area that later became Zion City, in the Northern Province. Lekganyane was educated by Scottish Presbyterian missionaries, and the church reflects some elements of that religion. Lekganyane was initially a member of the ZAC following the healing of his eye ailment through the tri-baptismal the church practised as a part of their member recruitment program.
Some members of the Christian community did agree with this, but the church continued to carry out the baptismal services of this nature. Lekganyane left the ZAC and went to Lesotho in 1920; there he joined Edward Motaung's Zion Apostolic Faith Mission and was ordained as a bishop of the ZAFM for the Transvaal. Due to differences pertaining to administrative matters, Lekganyane left ZAFM late 1924 or early 1925 and started his own church the Zion Christian Church.
2. CRC Christian Church
The Christian Revival Church (CRC) is Full Gospel in Faith, Evangelical in Practice (Ministry), Pentecostal in Movement & Charismatic in Worship (triune prayers: confession, resist/cast devils/demons and ask of blessing or oneness tongue praise & worship) and three times praise as Praise The Lord- before and after any prayers.
CRC is a move of God that was birthed under the leadership of Pastor At Boshoff in 1994, with the clear mandate from God to win the lost at any costCRC welcomes people from all races, ages and backgrounds. Our doors are open to all people and we are proud to be one of the first multicultural, multiracial churches in South Africa. We believe the church is the middle ground of society where the rich and poor, literate and illiterate, young and old, people from different cultures and walks of life can uplift one another in God.
Also, they perform fasting, healing and deliverance prayers.This church believes in baptism by immersion, tithing for prosperity, speaking in other tongues as evidence of baptism in the Holy Spirit, casting out demons, fasting, divine healing, rapture of the church, and millennialism
3. Christ the King Catholic Church
Christ the King Catholic Church is a Roman Catholic church in Johannesburg, South Africa. The church is the largest in Africa and was built to accommodate the increasing number of worshippers. It has a capacity of over 10,000 people.The church was designed by South African architects B.Gregory & J.P Monahan and completed in 1958.
The building took five years to complete at an estimated cost of R600,000 (about US$36,600). The cathedral was consecrated and opened in 1960.The church is built from red brick with concrete trimming and has a flat roof with large skylights that allow natural light into the nave.
The nave contains two massive concrete pillars which support the roof and are decorated with abstract depictions of Christ's crown of thorns and his stigmata.In September 1995 Pope John Paul II visited the cathedral as part of his visit to South Africa.The members of this congregation are mostly from Zimbabwe, Zambia and Malawi as well as other African countries who live near Johannesburg.
4. St. Peter's Anglican Cathedral
St. Peter's Anglican Cathedral is one of biggest church in South Africa. It was built in 1956, and has been declared a National Monument by the South African Heritage Resources Agency (SAHRA).The cathedral stands on a hill that overlooks Cape Town. It is one of the most iconic landmarks in the city and can be seen from many places around it. The cathedral has two spires, one at each end of the building, which reach a height of 100 meters (328 feet).St. Paul's Anglican Cathedral is located in Cape Town's CBD and is one of Cape Town's oldest buildings still standing today.St. George's Cathedral is also located in Cape Town, but this time on Church Square where it serves as a protestant church for locals living there as well as tourists visiting Cape Town
5. St. Paul's Church
St. Paul's Church is one of the biggest churches in South Africa, and one of the largest in the world. The church was built in 1873 and can accommodate up to 8,000 worshippers.
The building itself is an example of Victorian Gothic architecture, and was designed by Sir George Gilbert Scott, who also designed St Pancras Station in London. It was built by architect William Butterfield who used local materials such as granite and sandstone to build it.
The interior features some amazing stained glass windows that were created by Morris & Co., a famous stained glass company based in London.The church has been described as "an architectural gem", and it is regularly used for concerts, exhibitions and other events.
6. Holy Trinity Church
The Holy Trinity Church located in Durban is one of the biggest church in South Africa. It is also one of the most beautiful churches in the world, and it has been nominated for the World Heritage List by Unesco. The church was built by Sir Henry Fynn and his wife Lady Helen Fynn in 1902.The church has a capacity of more than 5,000 people and can accommodate up to 8,000 people if they stand on their feet. The Holy Trinity Anglican Church is one of the largest Anglican churches in South Africa.The architectural design of this church was based on the Italian Romanesque style, with a basilica plan and a semi-circular apse at its eastern end. The building is constructed out of local stone with red brick trimmings on the exterior walls of the building. The interior walls are plastered in white color, while some parts have been painted black to create a contrast against other colors present inside this beautiful structure.This stunning building was designed by architect Edward Charles Morgan. The church has been declared a heritage site by the City of Durban and is listed as a Grade II historic building.
7. St. Mary's Cathedral
St. Mary's Cathedral is the mother church of the Roman Catholic Archdiocese of Johannesburg, in South Africa. It is located in the central business district of Johannesburg, at the corner of Commissioner and Main Streets. It is one of the biggest churches in South Africa, and has a seating capacity of 9,000 persons.
St Mary's Cathedral was built in 1956 by Italian architect Pietro Belluschi (1906-1997). Belluschi was an Italian-American architect who was known for his work on churches and religious structures. He traveled widely throughout his career, working on designs in Europe, Asia and North America.
The building has been described as Modernist architecture but it also incorporates elements of Art Deco design and features such as its curving interior surfaces that are reminiscent of the lines found in Gothic cathedrals. The cathedral is made from local stone with a concrete frame and roof structure which makes it very strong but also light weight.
8. St. George's Cathedral
St. George's Cathedral is the 6th largest church in South Africa. It can seat up to 2,000 people at a time and is used by Anglicans and Catholics alike.The cathedral is located on St George's Street in Cape Town, South Africa. The building was completed in 1910, but was badly damaged during an earthquake in 1960.
It was rebuilt in 1965 and then again in 2000.The Anglican Church of Southern Africa has been worshipping at this location since 1823 when the first rector of St George's Parish began holding services there using a small wooden chapel as his home base. The building that stands today replaced this chapel after it was destroyed by fire in 1828.
It wasn't until 1841 that plans were made for construction of a larger church building after Bishop John Robert Graydon returned from England with funds raised by locals who had emigrated there to escape poverty and disease in their homeland.
9. St. Augustine's Cathedral
The St. Augustine's Cathedral is the oldest church in South Africa and has been voted as one of the top tourist attractions in Pretoria. It was first built in 1853 by the Church of England and was consecrated by Bishop Robert Gray on May 4th 1856. This was done after they had acquired a piece of land from Lord Charles Somerset who was the governor of the Cape Colony at the time.
The church was built in response to a growing need for more churches to be built in South Africa at that time. The Anglican Church has played a major role in shaping modern day South Africa as we know it today, and this church is no exception to that rule.
The church has a capacity to seat over 2000 people, which makes it one of the biggest churches in South Africa. The interior of the church has beautiful stained glass windows that add to its beauty and a large pipe organ that adds to its grandeur.
10. Hillsong Church
Hillsong is a traditional Christian church. Confounded by the gift of assurance we have seen in Jesus; we have a feeling for genuine worship, are enthusiastic about the historical church, and are on a charge to observe God's throne erected across the globe.
Hillsong Church was established by Bobbie and Brian Houston in the year 1983 in the western outskirts of Sydney, Australia. Presently, Hillsong has spread the churches in the city centres of about 21 countries across the earth.
On an average, the church has a global audience progressing 130,000 every week.
Conclusion
According to our research this are the top 10 biggest churches in south africa as at the time this article was written. Do you have any addition or questions drop it on the comment section.
Frequently Asked Questions Churches In South Africa
Question: What are all the sects of Christian based churches are found in South Africa?
Answer: There are Anglican Churches, Baptist Churches, Catholic Churches, Orthodox Churches and Presbyterian Churches found in South Africa.
Question: In what types the Christian churches are classified in South Africa?
Answer: The different types of Christian churches in South Africa are classical or gothic, historical churches and modern churches.
Question: What is the architectural style of St Michael and St George Cathedral, Graham's Town in South Africa?
Answer: St Michael and St George Cathedral, Graham's Town in South Africa is the finest example of Victorian neo-gothic architectural style.
Question: Can tourists of any religion and ethnicity enter the churches present in South Africa?
Answer: Yes, tourists of any religion and ethnicity enter the churches present in South Africa.
Question: What are the timings of churches in South Africa?
Answer: Most of the churches are open from 08:30 AM to 05:30 PM. Yet, the Sundays and special occasion time differ.
Question: Which is the best season to visit the churches in South Africa?
Answer: There is no special season to visit the churches in South Africa. They are open to the public and tourists during the day time every week.
Question: Is it possible to take photos and videos of the historical churches present in South Africa?
Answer: Yes, you can take unlimited photos and videos of the church exteriors and interiors of the historical churches present in South Africa.
Disclaimer : No copyright infringement intended.
All rights and credits reserved to respective owners.