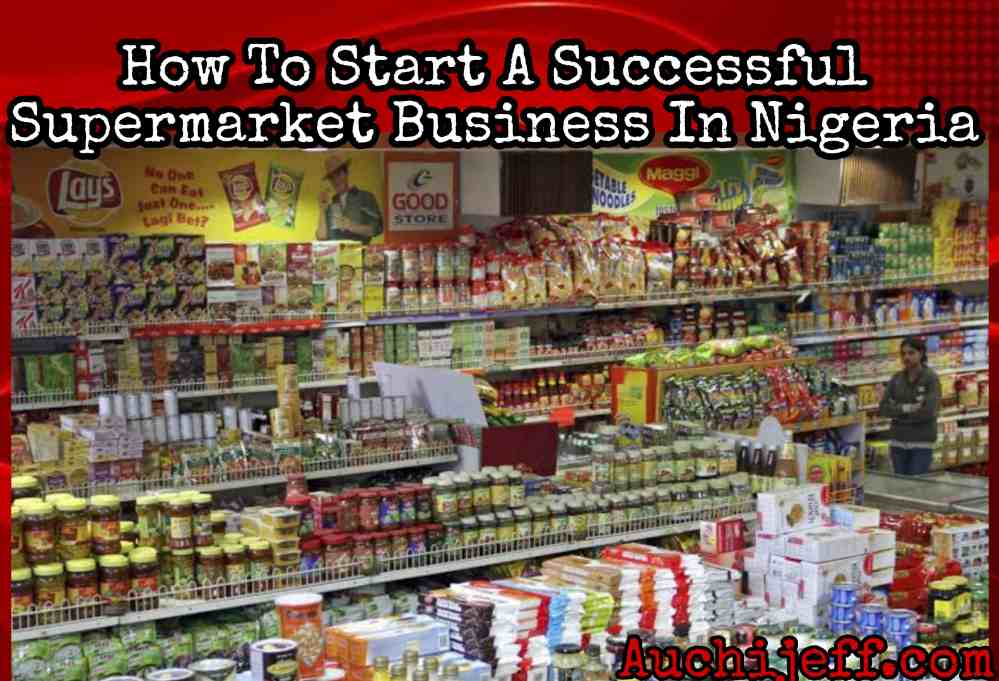 Auchijeffblog is known by majority to be a content writing site that ensure to give you up to date biography and other news update. In this article, just as it is stated below Auchijeffblog will be taking you on a full tour on How To Start A Successful Supermarket Business In Nigeria.

All you have to do is to keep reading so as to be enlightened because Auchijeffblog will be bringing to light more details about business venture. Don't forget to share this article to your friends so as to keep them updated about recent happenings.
A supermarket is a place where you can get essential and non-essential commodities of all kinds. The supermarket business is not a new kind of business; it's a lucrative but expensive business to start.In a supermarket, you have different types of consumables, household equipment, and appliances that satisfy all kinds of clients.
Basically, it is a place where the elites, middle, and the low-class visit to shop for their needs. Aside from the beautiful and serene environment that is common with some supermarkets, you also have a variety of options and can shop for all your needs in one place without moving from one place to the other.
This business is capital intensive, but profitable. The self-service style, where customers can serve themselves until they get to the counter for payment reduces the cost of labour in running the supermarket business.
Without furtherado let's take a look at the important steps you need to take to start a successful supermarket business in Nigeria.
Procedures To Starting A Supermarket Business In Nigeria
If you aim to start your own supermarket business in Nigeria, this article will explain in details the basic requirements, what it will cost you, a projected profit margin and other factors you will need to consider when starting and running your supermarket successfully. Let's go there.
Step 1: Write Your Business Plan (Planning)
Before you can start anything called a business, you must draw up a business plan to effectively start and manage all facets of the business. A business plan will act as a guide, taking you from where you are to where you want to be within an anticipated time frame. So, take some time to do a proper feasibility study to help you locate the best place to situate your supermarket, the goods that are in high demand in that area, and of other factors that will help you plan and achieve your business goals.
After conducting your feasibility study and writing your business plan, then, proceed to do a business registration with the Corporate Affairs Commission.You can register as a sole proprietor or a limited liability company depending on your choice. This process can be a little difficult, that is why companies like ReDahlia exist. ReDahlia makes business registration seamless for businesses.
Step 2: Capital
A supermarket business requires a huge amount of money. For instance, renting or building your store can be quite expensive in Nigeria and can require millions of naira depending on the location.If you don't have the capital and you really intend to venture into the business, you can seek funding with your business plan.
You can approach banks for a loan or seek out investors that will invest in your business either as debt financing or in return for equity. All of these require money and from our estimates, you will need around N3Million naira to set up a mini standard supermarket business. Bear in mind that this amount is dependent on your location in Nigeria.
Step 3: Location
In setting up a business of this nature, the importance of location cannot be over emphasized. In fact apart from finance, it can be regarded as the single most important factor that will determine the success or failure of the business.This is because the mini supermarket business will hardly have the available funds to afford an elaborate advertisement campaign hence it has to be located where it will be exposed to potential customers.
Secondly, almost everyone will love to do their shopping in a place that is easily accessible. No one will want to shop in a place where arriving or departing will be a hassle.In summary, the best place to locate a mini super market in Nigeria is along a busy road or junction where your shop will be exposed to a high stream of consumers.
Step 4: Building A Store
The supermarket should be spacious for easy movement to avoid customers bumping into each other.Also, you can place different items like female goods separately, males separately, etc. Related items can be arranged together with price tags.
For comfort, the store should have cooling systems (fans and AC) in different sections. Also for security, the store should be burglary proof and fire alarms should be installed in case of fire outbreak.
Step 5: Having Constant Power Supply
Power is a very important component in the setting up of any mini supermarket because some of the items to be sold such as meat and fruits need to be preserved in freezers, and other items such as drinks also need to be kept cool. Apart from that, it is important for the supermarket to be kept at a temperature that is convenient and hospitable for customers.
The erratic nature of public power supply means that there will be need to purchase a generating set. When going for a generator, there is need to engage a professional to find out the expected electrical load in the supermarket.
Step 6: Marketable Products
The supermarket owner should have different reliable sources for the products it sells. As long as you are not selling one particular item, it is important to create links with manufacturers, distributors, wholesalers, importers, and marketers of all kinds of goods.It is also important to know when to restock, quantity to restock, and how to negotiate and get the best price. You can sell all kinds of product ranging from fresh, frozen, baked, cooked, home utensils, toys, home appliances, etc.
Some of the items you can sell include: cosmetics, biscuit/candies, stationaries, clothes, shoes, phones and accessories, pieces of jewelry, beverage, pharmaceutical items, cream, toiletries, flowers, decoration products, books, baby care products, e.t.c.
Step 7: Marketing
Owing to the number of different supermarkets existing today, you can only stand out if you have a solid marketing and advertising strategy. Start your brand awareness within your vicinity. The people in your locality should know about the existence of your business.Also, create customized cellophane bags to pack purchased goods with your business name, logo, and contact address visibly printed.
Most importantly, ensure that you offer quality customer service and sell quality goods that are not spoilt or expired. If you sell expired goods, bad word of mouth will spread and customers will not return.
Conclusion
According to our research this is the most appropriate way to start a supermarket business in Nigeria today.
Do you have any addition or questions drop it on the comment section.
Disclaimer : No copyright infringement intended.
All rights and credits reserved to respective owners.