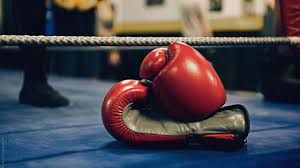 Boxing is a combat sport in which two people, usually wearing protective gloves and other protective equipment such as hand wraps and mouthguards, throw punches at each other for a predetermined amount of time in a boxing ring.Boxing is a dangerous sport.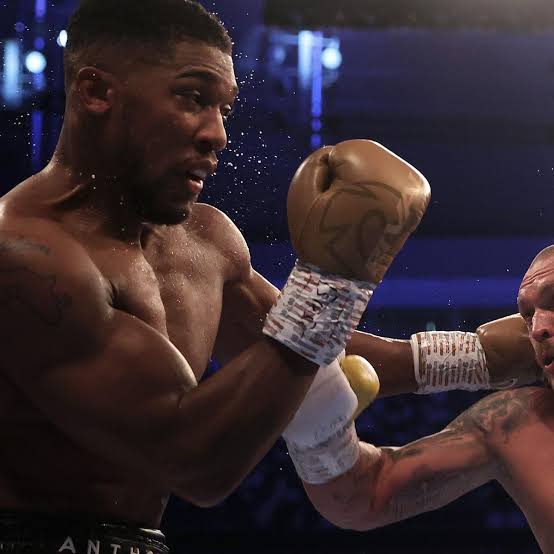 Unlike most other sports, its basic intent is to produce bodily harm in the opponent. Boxing can result in death and produces an alarming incidence of chronic brain injury. For this reason, the World Medical Association recommends that boxing be banned.
On 6 January 1681, the first recorded boxing match took place in Britain when Christopher Monck, 2nd Duke of Albemarle (and later Lieutenant Governor of Jamaica), engineered a bout between his butler and his butcher with the latter winning the prize.
Early fighting had no written rules.Boxing is one of the oldest known sports today, with 2,000-year-old depictions on the walls of tombs in Egypt and stone carvings indicating that Sumerians—who lived in what is now Iraq—boxed at least 5,000 years ago.
Boxing got its start as an exhausting and brutal spectacle. The beauty in boxing comes from many different sources. It speaks of courage, respect for your opponent, professionalism, intelligence, altruism, overcoming adversity, and heart and desire. All of these aspects are found in abundance in womenís professional boxing.
Below are the list of the top 10 boxers in Nigeria according to Wikipedia;
1.SAMUEL PETER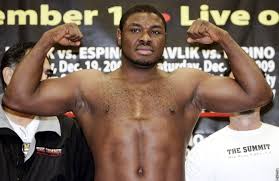 Samuel Okon Peter (born September 6, 1980) is a Nigerian professional boxer. He held the WBC heavyweight title in 2008, when he stopped Oleg Maskaev in six rounds.
In his prime, he was known for his rivalry with the Klitschko brothers, having faced Wladimir twice (in 2005 and 2010) and Vitali once. He was ranked by The Ring among ten best heavyweights from 2005 to 2008, reaching his highest ranking of world No.2 in 2007, and by BoxRec as the world's No.6 heavyweight at the conclusion of 2004 and 2005 and as No.5 heavyweight in 2006. Peter is known for his punching power and holds a 78.9% knockout-to-win ratio.
2.DICK TIGER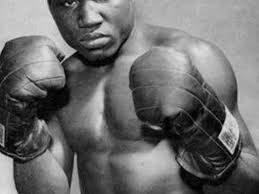 Dick Tiger (born Richard Ihetu; August 14, 1929) was a Nigerian-born professional boxer who held the undisputed middleweight and light-heavyweight championships.
Tiger became a two-time undisputed world middleweight champion and helped keep boxing alive during the 1950s boxing industry recession. Tiger won the world middleweight title when he beat Gene Fullmer in 1962 and the light heavyweight title in 1966 when he dethroned José Torres of Puerto Rico.
Prior to these accomplishments, however, Tiger seemed condemned to poor management and a resulting lack of exposure.
3.GBENGA OLOUKUN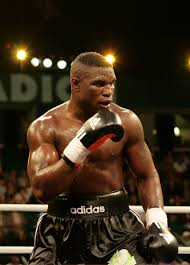 Gbenga Oluokun (born 14 June 1983) is a boxer from Nigeria, who participated in the 2004 Summer Olympics for his native West African country.
He has faced former world champions and contenders Manuel Charr, Lamon Brewster, Kubrat Pulev, Robert Helenius, Carlos Takam, Vyacheslav Glazkov, and Mariusz Wach.In 2003 he captured the gold medal in his weight division at the All-Africa Games in Abuja, Nigeria vs Mohamed Aly.
At the Olympics 2004 he was defeated in the round of sixteen of the super heavyweight (over 91 kg) division by Italy's eventual runner-up Roberto Cammarelle.
4.IKE IBEABUCHI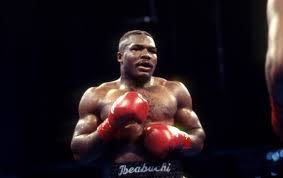 Ikemefula Charles Ibeabuchi (born February 2, 1973) is a Nigerian former professional boxer who competed from 1994 to 1999 in the heavyweight division.
He defeated highly ranked contender David Tua in 1997 and future world champion Chris Byrd in 1999. He was ranked by BoxRec as the world's No.8 heavyweight in 1997 and 1998, and as No.10 heavyweight in 1999. After compiling an impressive record of 20–0 with 15 knockouts, Ibeabuchi's natural talent and potential inside the ring was eventually overshadowed by emotional instability and violent tendencies in his personal life.
After a series of run-ins with law enforcement, he was imprisoned in Las Vegas in July 1999, after submitting an Alford plea for charges on sexual misconduct. This had unfortunately also marked the end of his professional boxing career.He announced his desire to return to the ring to resume his professional boxing career, but was rearrested before his comeback could take place .
5.HOGAN BASSEY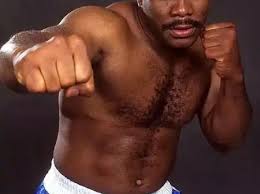 Hogan Bassey (3 June 1932 ) was a Nigerian-British boxer; he was the first man of Nigerian descent to become a world boxing champion.He was born Okon Asuquo Bassey on the banks of the Cross River, Creek Town, Calabar, Nigeria, and became naturalised British when he moved to the UK, where he spent most of his life in Liverpool.
He took the name Kid Bassey when he turned professional as a boxer. He was managed by and trained by George Biddles and Jimmy August.[In 1959 he was awarded the MBE following his world title win and went on to become a coach in Nigeria, which awarded him the country's highest honour in 1973. He died on 26 January 1998 at his home in Apapa, Lagos.
6.EFE AJAGBA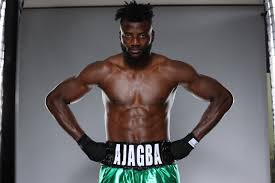 Efe Ajagba (born 22 April 1994) is a Nigerian professional boxer who holds the record for the fastest victory in boxing history after his opponent was disqualified for leaving the ring one second after the opening bell.
As an amateur, he won a gold medal at the 2015 African Games and bronze at the 2014 Commonwealth Games.After compiling a perfect record of 5–0, on 24 August 2018, Ajagba scored the fastest victory in boxing history in a match against Curtis Harper, winning in one second via disqualification after Harper walked out of the ring in protest over a pay dispute.
7.LATEEF KAYODE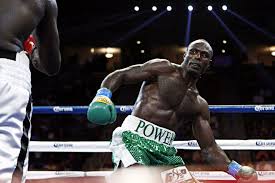 Lateef Olalekan Kayode (born March 3, 1983) is a Nigerian professional boxer who challenged for the WBA cruiserweight title in 2015.
On 3rd of December 2010, Kayode knocked out American Edward Charles Perry on a Showtime boxing card.
Kayode showed a much more relaxed demeanor in the ring than in his previous ShoBox appearances. In the 6th round he perfectly placed a right hand down the pipe that connected on the left side of Perry's jaw, sending him sprawling to the ground once more. Perry had never touched the canvas in 13 years as a professional.
8.FRIDAY AHUNANYA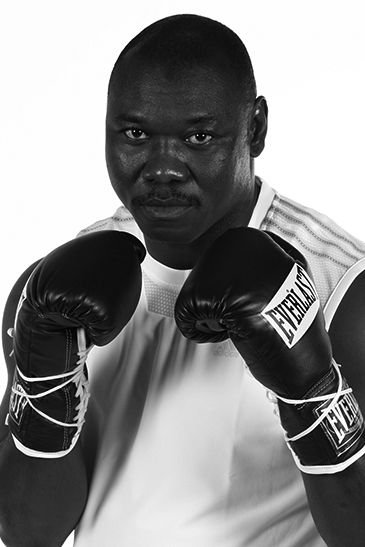 Friday Chinedu Ahunanya (born 19 November 1971) is a Nigerian professional boxer. He is a journeyman heavyweight best known for beating several undefeated prospects and for his appearances on ESPN fight cards.Ahunanya lost to David Tua in March 2010 in New Zealand via decision.
However Ahunanya and his manager claimed he should have won, and would have if the fight had been in the USA. After further review it was obvious that David Tua won the fight by unanimous decision.He then drew with fringe contender Dominick Guinn, and then was competitive in losing efforts against undefeated prospects Sultan Ibragimov (Olympic silver medalist) and Alexander Povetkin (Olympic Gold medalist).
9.NOJIM MAIYEGUN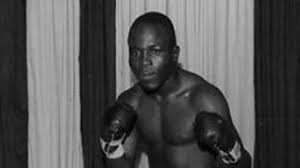 Nojim Maiyegun (born 17 February 1941 in Lagos) is a retired Nigerian boxer, who won the bronze medal in the men's Light Middleweight (71 kg) category at the 1964 Summer Olympics in Tokyo, Japan.He was Nigeria's first Olympic medalist.
He later revealed his loss of vision in 2012.Nojim Maiyegun is still very much alive.
10.ISAAC EKPO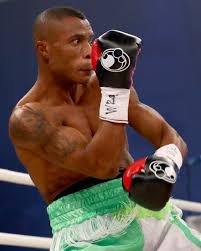 Isaac Ekpo (born 22 October 1982) is a Nigerian professional boxer who has challenged three times for a super-middleweight world title between 2013 and 2018. As an amateur, he competed at the 2004 Summer Olympics.
In 2004, Ekpo was a member of the Nigerian Olympic team, and was defeated in the first round by Utkirbek Haydarov from Uzbekistan.